A lusty woman on her way to her boyfriend's to celebrate his birthday has a naughty encounter with his neighbor in the condo glass elevator when it gets stuck between floors.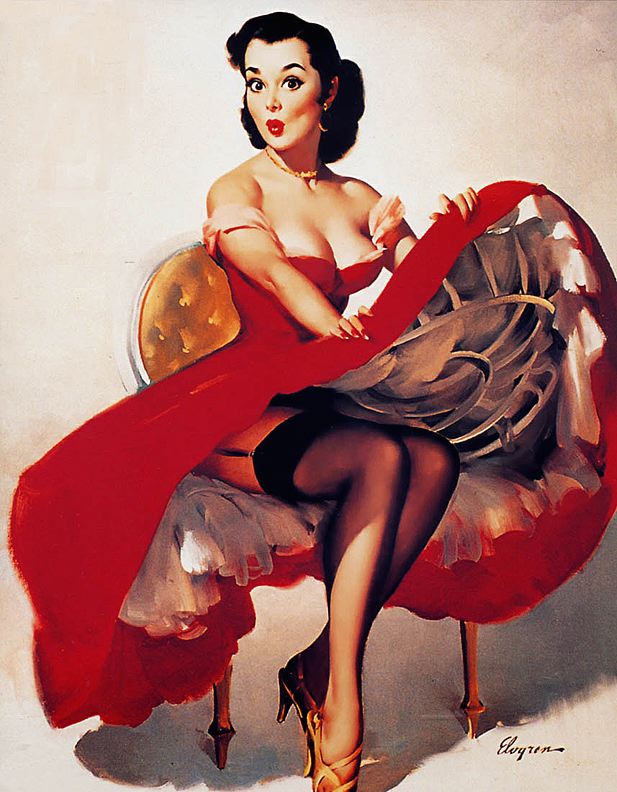 To Listen To Me Read This Story, Click
"The Glass Elevator" A 9 min 12 sec recording.
I had been looking forward to my boyfriend Jim's birthday all week. I had a special surprise planned for him that I knew he would like. He'd mentioned when he went to his friends bachelor party a few weeks ago how much they enjoyed the stripper that had been hired for the evening's entertainment and how some had even gotten lap dances, and this put the idea in my mind to begin with. I was going to do a striptease and lap dance before we had a wonderful evening of making love and a wonderful dinner I was going to make for him.
I'd spend a good deal of time shopping for just the right lingerie and finally settled on a tight red satin corset, panties and black stockings to go with some black, open toed stiletto heels. I put a trench coat on over my naughty little ensemble and drove over to Jim's building. It was a fairly new condo complex less than a year old, he'd been one of the first to buy a unit. It was quite stylish and overlooked the lake and had these striking outside glass elevators on the front of the building. I always felt like a fish in a tank going up and down in them, as it was a fairly busy street they overlooked, but they were very pretty, outlined in tiny white lights.
I got out of the car and walked up to the building entrance and let myself in with my key and then stepped into the elevator at the same time a handsome man did that was obviously just coming home from work, in a suit and tie and briefcase in hand. I gave a brief smile and pressed the floor Jim's unit was on, the second from the top and the businessman pressed the floor below that. The elevators were pretty, but as it was a fairly high building, always made me a bit nervous. We had ascended several stories, maybe a dozen, when the elevator lurched and came to a grinding halt. I wasn't happy about it, but it had happened a couple of times before and only ever seemed to last a moment or two before it would start up again.
After five minutes, I got a bit worried and started to chat with the man in the suit, who introduced himself as Mark.
"Hi, I'm Lauren. You may have seen me around the building before, my boyfriend Jim lives on the floor above yours."
Mark's eyes raked me up and down, and he looked amused. "May I ask why you're wearing that coat when it's over 80 degrees outside?"
I got a sheepish grin on my face and didn't now what to say, it would seem a bit silly if I said I was only wearing lingerie underneath for my boyfriend's birthday striptease I was planning. "Well, I…I..", I stumbled.
He looked a bit perplexed and smiled at me. "Let me guess, you're naked underneath…", he said slyly.
The color rose in my cheeks as I blurted out, "I am not!"
"Then let's see what's under that coat!", he laughed.
"You've got a bit of nerve," I countered. "Look, I didn't mean to upset you, it's just we're stuck in here for who knows how long till this thing is moving again, I was just being playful," he said.
"I know, I'm sorry. It's my boyfriend's birthday, and I had a special night planned, is all. I have some new lingerie on I thought I'd surprise him with."
Mark all of a sudden perked up, and asked again in a softer, slower voice if he could see the outfit I had on underneath.
"Please…?", he asked, sounding like a little boy who'd brought home a stray kitten he'd asked if he could keep.
"Well, I guess it can't do any harm to show you, I do look great in it if I do say so myself," I replied.
I unbuttoned the coat and spread it open, like a flasher might if you encountered them on the street. I could see the look on his face change as he raked his eyes up and down every inch of me. My breasts nearly popping out of the tightly laced corset, heaving with every breath. My thighs with the garters and tight stocking tops, my waist cinched in. It wasn't the most comfortable of outfits truth be told, but I did look fucking hot and I knew it.
I could see the rising bulge in his pants, and I instinctively knew he wanted to reach out and touch me. So I would be extra aroused before I came over, I'd actually masturbated a bit without letting myself cum, so I was fairly horny.
"God, you are beautiful," Mark said as he looked at me. "Your boyfriend has a hell of a night ahead of him, lucky bastard."
"I sure hope this elevator starts moving soon, I hate to say it, but I'm so horny…", I admitted.
"I'd love to help you out with that," Mark volunteered.
He really was handsome. Around 30 years old, 6 feet tall, broad shoulders, handsome face, green eyes, light brown hair. Looked like he could have been an actor. Truth be told, I wouldn't have minded if he'd made a pass at me.
He moved closer to me, looking in my eyes, I could feel his breath on my cheek and he leaned down and lightly brushed his lips against mine. Kissing me so gently, my lips parted and I deepened the kiss, probing my tongue into his mouth. I felt his hand on my waist, curling around to the small of my back and pulling me closer to him, as his other hand crept up my waist and further up to cup my breast, with my now hardening nipple almost popping out of the top of the corset.
"I want you," he breathed huskily into my ear. I knew I shouldn't, but his actions felt so good, so right, I didn't want him to stop. So I let him continue with no resistance whatsoever. His hands were soon behind my back untying the corset. I was so overwhelmed with passion, I didn't even pay mind to the fact we were in a see through elevator and ones from the ground might be watching us. The corset was soon in a red satin pile on the floor, leaving me standing there in nothing but my panties, stockings and heels.
Mark knelt down and soon pulled the panties off of me and slid his fingers into my eager wetness, finding my stiffened clit easily, stroking it back and forth as I kissed him passionately and sought to free his stiff cock from his pants. I found it and pumped it up and down with great vigor, my fingers and hand soon slick with his pre cum. He was around 8 inches long, and thick. I knew without a doubt that cock would be in my pussy in mere moments, and I was praying the elevator wouldn't start up before we had our fast fuck.
I got onto my knees and plunged that beautiful cock into my mouth, all the way to the balls. I swirled my tongue all over his cock head, flicking the eye back and forth, drooling all over it, teasing it as I cupped his balls and then took them in my mouth one at a time. Mark pulled me up and bent me over and slid his cock inside. I winced at it's thickness spreading me open. I could feel the veiny shaft penetrating me totally, gliding in and out balls deep. I started to rub my clit at the same time as he rhythmically pumped into me. He grabbed my full breasts and kneaded them in his hands, rubbing my nipples with his thumbs as he fucked me roughly doggy style in the glass elevator. I looked down and was sure I could see a few people on the street pointing up, but it was a dozen floors down, so I'm not totally sure.
All of a sudden we heard a maintenance man yell through the door, "Don't worry folks, we'll have you out of there in a few minutes!" Mark increased his thrusts and fucked me with great abandon and I came loudly and made his cock wet with my juices as I felt him empty inside of my pussy. He pulled out and quickly helped me back on with my corset and coat just before the elevator doors opened.
"Nice to meet you, Mark," I offered as I walked out of the doors. "You too, Lauren, I hope we get to chat again soon," he said, still flushed. "Me too," I replied as I left the elevator and walked back down the hall to Jim's unit. Yes, it was a birthday to remember alright…..
************************************************************************************
The above story was written by me. If you see the above story posted on any other websites than Climax Connection, Literotica or Lush Stories, it has been stolen, posted and copied without my permission. Please notify me if you see it on any other sites.