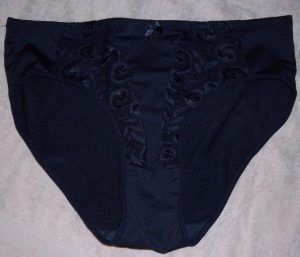 Sometimes life really is stranger than fiction. I just had a real life masturbation mishap. One of my personal phone partners had asked me a couple of weeks ago if I'd send him a pair of my panties with my juices on them for him to masturbate with, so I agreed. I got a nice but inexpensive pair, in the picture here, and he wanted to have a phone date with me and then have me wipe myself and my juices on the crotch of them and put them in a Ziploc bag and mail them to him.
I came on the phone with him 2 times and then was trying to wipe myself with the crotch of them as I was still talking on the phone to him. I then had a thought it would be easier to wipe myself with them if I got up and stood up, so I did, the room was dark. I put one foot up on the side of the bed and started to wipe myself with them.
All of a sudden I lost my balance and went over, falling between the bed and the dresser, dropping the phone, laughing, as the panties were stuck between my legs. I grabbed the phone and asked if he was still there and explained I had to get myself up. My tumble was amusing, yet hurt my elbow and leg a bit. I got back into bed, and talked to the poor guy as he finished masturbating and came. The panties stuck between my legs the entire time.
After we finished talking, I got up and placed the panties in the bag and envelope to be mailed out to him. The whole incident was memorable and very funny. I'm kind of a goofball, so it was quite appropriate to say the very least!