A girl and her step brother get a little bit naughty when he comes home for summer vacation.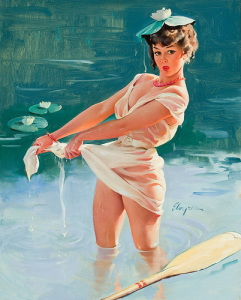 To Listen To This Story, Click
A 6 min 48 sec recording.
Sorry, I didn't mean to startle you. What are you doing up so late? Watching TV by yourself in the dark. Can I sit? Scooch over. What's this movie? Yeah, seems pretty lame. Hey, it's so cool having you back from college for the Summer, stepbrother. I know you probably think it's boring around here, hanging out with a bunch of high school kids, but… we have fun some weekend. You should come out with us some night. My friends would flip to hang out with a college guy. What? We're all over 18, we know how to party. Fine, I guess you get plenty of action at school, right?
Whoa. What is this movie? Is she getting naked? Are you watching PORN? Haha, I know it's not, but are they gonna do it? Oh my god, they are. Oh bummer, it's just kind of softcore. Wow, look at her ride him. Are you turning red? Haha, don't be embarrassed, it's not like I haven't seen it before. Oh she is so hot. Do you think she's hot? How about those tits? Oh god, don't be such a prude. I've watched porn before, it's not like I don't masturbate. And … I mean … I know YOU do too.
Haha, don't be so shy. You've been staying here for a week, of course I … I've heard you … at night. Through the bedroom wall we share. It's … so hot. Wait, don't go … sit down … give me your hand. Hey. Hold my hand. That's nice. Listen. I like listening to you jerk off. It makes me so horny. Like last night. The rocking of the bed against the wall woke me up. So I listened and … and I started fingering myself with you. I bet you were soooo hard. Just like … you are now.
Wow, stepbrother. That is a huge fucking tent in your shorts. Wouldn't it feel better if you did someting about it? Here … let me … reach down and … oh wow … you're throbbing. Ha, your boxers are getting wet. That's so much precum. I have an idea … I'm gonna just lean close … and talk quietly in your ear. While you … take it out for me. Pull them down. Pull your boxers down, come on. Reach in. Take it out. Oh. Oh … oh my god. Your dick … is so fucking hard. And thick. Can you stroke it for me? Stroke it for me, step brother. Come on, pump your shaft. Oh yeah, that's it.
Do you like that? My hot breath against your ear, my lips so close, while you stroke your penis up and down for your stepsister? Oh fuck, keep stroking. Pump it faster, baby, that's it. Fuck, cup those huge full balls. Wow, you're so into it now, lift your hips up. Masturbate for me. That's it. Masturbate like I know you do every night, sometime two or three times. Tell me, do you think about me? Because I think about you while I finger my cunt. Yeah? Tell me. Yeah, I know you do, you think about your hot stepsister while you jack off. Oh god, you're breathing so hard, I can tell you're close, are you close? Your cockhead is throbbing, so slick and sticky, oh fuck, I know it's coming.
Are you gonna shoot, baby? That's it, go faster, faster now, oh fucking do it, cum for your stepsister, just let it go, I wanna see it. I wanna see you blow that load. Give it to me. Shoot your semen, do it, come on, do it. Oh god, is it coming? Is it coming? OH FUCK YOU'RE EJACULATING, OH MY GOD YES SHOOT IT! HOLY FUCK YES, IT'S EVERYWHERE, OH GOD! PUMP IT, BABY, YOUR SPERM IS EVERYWHERE, OH GOD! KEEP GOING IT'S SO MESSY. Oooohhhhhh wow spray it in my hand, I wanna taste your semen, that's it, ejaculate on my hand.
Mmmmmmm tastes so good. Oh god, stepbrother, you fucking blew it all over the place. Don't worry, I'll help you clean it up. Lick it off your thighs, your stomach, and your penis. Mmmmmmmm. Then you can take me upstairs, okay? It's gonna be a fun Summer.
*****************************************************************************
The above story was written by a client of mine for a custom recording they wanted made. I did not write it, nor do I claim to. I asked for permission to post it and was told I could for others to enjoy it. No one else has permission to copy it or post it.