A man loves to indulge his women's panty fantasies. All the brand names, colors, styles, it's all so much silky goodness for his cock.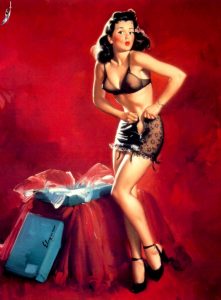 To Listen To Me Read This Story, Click
"Panty Enchantment"
 A 25 min 33 sec recording.
Just hearing the word "panties" makes you hard, now doesn't it. Panties. Soft, silky panties. Feminine panties. Frilly panties. Girly panties. Pretty panties. Say it: pretty panties. Your panty fetish inevitably leads to your favorite recreational activity, doesn't it, Panty Boy. Tell me. Go ahead, you can share your secret with your Panty Mistress: you want to masturbate in your panties, don't you, Panty Boy.
Do you have your own panty collection, David? Do you hide your panties? Do you like to shop for panties? When you go to the lingerie department of a large department store, you begin to get a boner just from looking at all of the different brands, styles, colors and fabrics. Hipsters, full-cut briefs, boy shorts, bikinis, hi cut briefs, … you're in panty heaven, aren't you silly boy? You stare in wonder at all of the nylon, the satin and delicate lace, luxurious chiffon, and microfiber so soft that you can just imagine how good your cock will feel rubbing against it.
And the colors — there are too many to count — virginal white, pink, yellow, lavender, powder blue, peach, lemon, apricot, hot pink. You never realized that there are so many brands: Olga's, Warners, Bali, Vanity Fair, Barely There, and of course Victoria's Secret. Isn't it true that you get a stiff boner whenever you see anything with ruffles and frilly girly panties always make you hard and oh-so horny, don't they, David.
I would love to watch while you masturbate in your panties, trying to satisfy your urgent desire to wear panties and stroke your cock, and at the same time put on a little show for your Panty Mistress. I love to see a boy get stiff from the feel of panties; I love to see his cock grow and twitch. Panties have that magical and erotic effect on you don't they. It only a matter of time — seconds, really — before the poor boy loses control grabs his straining cock.
We call it the panty boner or the satin erection; the silky stiffy, the lacey hard-on. And, yes, it turns me on when I see an eager Panty Boy masturbating and bringing himself to the peak of panty pleasure. You must masturbate for me in your pretty panties … I want you to pull on your cock while I watch … I want you to pull that stiff panty-covered shaft … you will be my panty pull toy. You will be the masturbation student, and I will be the masturbation teacher. I will be your panty tutor, trainer, coach and guide.
But instead of books we will have panties and lube and maybe a fleshlight or a cyber pussy. My panty pupil will have to study hard and he will have to be hard when he studies. My sissy masturbator will have to practice and practice over and over again. There will be lots of homework for you, my eager little masturbation student. And you will have to memorize some key terms, but that shouldn't be too difficult. After all how hard is to remember "up and down and up and down and up and down …"
As soon as you get home you will want to dash up to your room and work on your lessons and practice your stroking technique. Maybe we will make some flash cards for you — some will say "Stroke," some will say "Stop Stroking," some might say "Stroke Faster," there could be a card that says "Lubricate Now" You will be tugging at your stiffening cock before you have even had a chance to put a fresh pair of panties on for your masturbation sessions, won't you, David.
You get excited at even the thought of stepping into a brand new pair of feminine panties … that's right: just the thought makes your cock hard, and when that happens, there is only one thing to do: it must be stroked. And I want to help you satisfy your irresistible urge to wear panties and masturbate. I'm here to encourage you, to inspire you, to stimulate you. My job won't be a success until you have had a little accident in your panties.
You have your own panty collection, don't you. And you have hiding places for your panties so no one will discover your panty secret. Even though your panties are hidden away in a very special and secret place, you are proud of your collection aren't you? Do you like to look at your collection of panties and feel them in your hands. We must organize your panty collection and put them in neat order — you never know when you will need to find a particular pair on very short notice.
Your aching cock might not be able to stand a delay. We'll make sure your entire collection is neat and clean and sorted organized. Anybody who is enchanted by panties must have a collection of panties. That's what it is isn't it, David? You are simply feeling the effects of panty enchantment … and it feels so good.
You are an accomplished shopper aren't you? You cherish your trips to the department store and lingerie boutique — if it's a strange store, one you haven't visited before, that';s part of the game isn't it? Locating the lingerie department … you have to use all of your skills to home in on it. When you find your treasures, you inspect your panties with care — you are always proud of your panty purchases.
You are a panty expert and your shopping skills allow to pick a pair of panties that match — or set — your mood. If you are feeling sexy and submissive, you know just what panties set the tone for the evening. Are you feeling naughty? Are you being a bad boy? Did you misbehave? A nice fresh clean pair of panties always sets things right for you.
Well, you're secret is out now: you love to stroke your cock in your panties. And if you don't do everything that I say and follow my masturbation instructions to the letter, everyone will know your secret, my sweet little Panty Boy.
You want to show your Mistress what a good little panty boy that you are, and you want your mistress to take control of your panty masturbation sessions. You need your mistress to guide you in your masturbation sessions, to tell what to do, and tell you when to do it, and you want your panty mistress and masturbatrix to tell you when to cum in your panties. You want her to tell you when to stroke your cock and which panties to wear when you are doing it.
You want your Mistress to watch you stroke your panty-covered cock and give you direction and encouragement. Well I'm here to do just that. You want your mistress to share all of her panty and masturbation secrets with you, don't you. Well, if you are a very good boy and if you promise that you won't masturbate in your panties unless I am there to guide and to watch you, I promise to you that I will share all of my panty and masturbation secrets with you.
Tell me what you like to do when you are stroking your hard cock in your panties. You like to look at pictures of pretty girls, don't you? You imagine that they have invited you over to play panty games and put on a little show for them. Who do you like to look at? Is it the beautiful centerfolds from the pages of Playboy magazine? Do you like to demonstrate your stroking technique for you favorite Playmates? Oh I am sure they are so proud of our Panty Boy. I am sure they love to see you stroke your cock in your pretty panties while you drool over their playmate shoots and their centerfolds. Isn't that right, David?
Think about your favorite playmates, panty boy, while you stroke your cock … picture the centerfold shots of Sue Williams … Kelly Burke … Nancy Cameron … Rita Lee … Gail Stanton … Dorothy Mays …Lisa Welch … Kelly Tough … Karen Witter … Melinda Mays … Liz Stewart … Lisa Matthews … Julie Clark … Ann Pennington … Bridgett Rollins … Pamela Jean Bryant … Karla Conway … Nancy Harwood … Tish Howard … Nancy McNeil … Ellen Michaels … Carol O'Neil …. Nicki Thomas …. Patti McGuire … so many centerfolds and so little time to masturbate!
Do you also like to stroke your cock while looking at other models on the internet? who are you favorites? That Sweet Natural Girl Jaimy and her friend Jillian make your cock really throb with excitement and anticipation, don't they? do you have masturbation fantasies involving Josie Model, Ashley Gellar, and all those beautiful Stare Magazine models in their beautiful bikinis and lingerie? Do you dream of sucking on Kissable Kaydin's beautiful breasts? Do you imagine fucking Jen Hilton? Could you imagine if Mae Ellis asked you be to be her personal stroke pet? Would you like that? Would you like to hear Jen and Josie and Mae tell you what a good panty boy your are?
Think of your favorite panties: Olga — Secret Hug Nylon Scoop French Brief … Bali — Skimp Skamp Tailored Nylon Brief … Warner's Without a Stitch Brief … Bali Microfiber … Lacy Skamp Brief … let's not forget your very favorite, Vanity Fair Lace Nouveau … or those Barely There Stretch Chiffon Boy Shorts … how about Vanity Fair Comfort Solution … Is your cock getting hard now? Does it need to be stroked? Is all of this talk about panties making you think of masturbating? How about Warner's Nothing But Curves … and last but definitely not least, Victoria's Secret Second Skin Satin
Now we cannot forget about your lubes, right …. we all know how important lubrication can be to a very successful and satisfying jack-off session … and isn't that what I am here for, to make sure that your masturbation sessions are enjoyable and successful Liquid Silk, cocoa butter, Albolene, plain old hand lotion Vaseline Intensive Care lotion … just the smell makes your dick hard because you associate it with masturbation
Let's see, have we left anything out, David? Oh my goodness, your poor little sissy, I almost forgot! What about masturbation toys! Something yo can slip your dick into to simulate the feel of a real girl's soft warm and moist pussy. You have a Fleshlight, don't you? How about Cyber Pussy made out of Cyberskin? I know how you like to push your hard lubed-up cock into those toys. After a little while you want to explode, don't you, because it feels so good.
You want your Mistress to show you the proper stroking technique — a little education in the art of masturbation — and you want your Mistress to take your panty-covered cock and gently and lovingly stroke it for you … doesn't it feel good to have your mistress stroke your cock, with just the right amount of pressure, all the while whispering in your ear what a good panty boy and masturbation student you are?
Now, I want to relax and get perfectly comfortable … maybe you want a little lip gloss while you masturbate for me in your pretty girly panties … why not put a little lip gloss on? I think it will make you feel more girly … here is a tube of lip gloss from Victoria's Secret … its called Beauty Rush and this color is light pink — Mango Madness … is it making you mad and horny? Does the lip gloss make your cock hard?
Are you feeling all girly-girl now? I want yo to lie down on your bed … take deep soft breaths and think about how nice your panties will feel on your body and over your hard cock … now gently take this pair of Vanity Fair Lace Nouveau full-cut briefs — do you like the very feminine floral pattern with pink and light blue flowers? — now I want to place your legs into the leg holes and slowly and very gently pull them up to your waist — do you feel the fabric pressing against your cock?
Is your cock getting hard in your panties, David? Do you feel the elastic around the leg holes and your waist — that's to keep the soft silky fabric close to your skin … you like that feel don't you panty boy … is your cock getting harder and more stiff? Does it need to be stroked? Oh, I almost forgot … do you have some lube handy? Just in case we need it.
Now I want you to start by very gently grasping your cock, on the outside of the panties, and begin to slowly stroke up and down your shaft — just the shaft, for now. How does that feel? Doesn't it feel so good when you stroke your cock in your panties? From now on, anytime you masturbate it will be while wearing a pretty pair of panties. Not too fast now … that's better … slow, even strokes up and down your shaft … keep stroking … here, let me help … do like the feel of my soft, feminine hand on your cock? You do like it, don't you? I think you are getting even harder and stiffer.
It feels so good to stroke your cock, doesn't it. I want you to feel good when you masturbate for me. I want you to feel good in your panties. I am going to increase the pressure and the speed a little now. What's that? You want to come while I am stroking you? I guess that would be all right, but you know I can't be here every time you want to masturbate or play panty games. You are going to have learn to master this art by yourself. You are also going to have to learn to cum on command. My command, Panty Boy. Now, I want you to take over, stroking that panty covered cock on the outside of the panties with just the flat of your hand.
Keep it up, Panty Boy… faster, firm strokes, pump that hand Panty Boy. Pump it in your panties. Pump it for your Panty Mistress. Pump it for me. Get in rhythm. Thrust your hips for me! Now, come for your Panty Mistress. Come in your panties for your panty mistress. Come for me and thank your panty mistress for allowing you the pleasure of stroking your hard cock in your pretty panties. Oh what a good panty boy! Good job, Panty Boy.
****************************************************************************
The above story was written by a client of mine for a custom recording they wanted made. I did not write it, nor do I claim to. I asked for permission to post it and was told I could for others to enjoy it. No one else has permission to copy it or post it.