A man with a hair and cum fetish gets to fuck the hair and cum in it of a beautiful young woman when she comes to see him in his hotel room.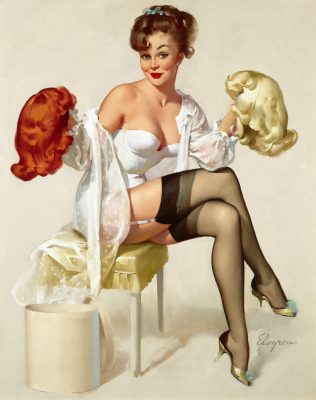 To Listen To This Story, Click
I'm getting ready for my appointment with you, I'm nervous, I've been an escort for a few months now, but I've never had a client with a hair fetish. I look in the mirror and brush my long straight strawberry blonde hair, wondering what you might do to it. I take a deep breath, put on some bright red lipstick and then head out the door.
I arrive at your hotel room, and again, I can feel rushes of energy overcome me. I'm excited, I've always felt I have sexy hair, and now a man truly gets to experience and appreciate it.
I knock on the door and you open it, my jaw drops at how sexy you are. You lead me into your hotel suite and introduce yourself "Hi Sean" I say "I'm Sharon, nice to meet you"
You hand me the money and I put it into my purse, then lead you over the couch, I kiss you passionately with my bright red lips before sinking down to my knees in between your legs. I look up at you and wink as I reach up and undo your belt "How do you like my hair Sean?" I say as I toss my hair side to side, unzipping your pants and allowing your cock to spring out. "OMG it's so huge" I say as your cock comes to life before my very eyes.
I take a strand of my long strawberry blonde hair and slowly tease you with it, tickling it up and down your hard cock. As your cock starts to throb, I wrap long strands of hair around your shaft. Slowly teasing you with my hair, hearing you moan in pleasure as I wrap my red lips around the head of your cock.
You place your hands on my head as I start to really get into this. I love that a good looking man has spend his hard earned money to fuck my hair. I stroke your shaft harder with my hair as I drool all over the tip of your cock. My saliva running down your cockhead and into my hair as you thrust into my mouth.
I look up at you "Do you like fucking my hair? I say as I crawl onto the couch and place my head on your lap. I hand you locks of my long soft hair and you use it to stroke your own cock now as I look up at you "thank you for using my hair the way it's supposed to be used" I say as you use my hair to pleasure yourself.
I then reach down and take off my pretty pink silk panties and smirk up at you, before using them to cup your balls as you use my hair. "Oh Shaun, your balls are filling with cum right now, I can feel it" I'm about to say more but you turn my head and shove your cock with some of my hair into my mouth, making me mumble around your thick cock.
You hold my head in place as you thrust in and out of my mouth, my strawberry blonde hair bunching up around your cock while becoming drenched with my saliva. Your balls swelling up as my panties massage them. My red lips leaving stands on the head of your cock.
You take me by my hair and pull me over to the foot of the bed and tell me to get ready for my cum shampoo. My heart races as the thought of your thick white protein covering my hair is so erotic to me. You tell me to get ready for my cum shampoo as I let my long soft strawberry blonde locks fall down to my face. Through the strands of my own hair, I can see you stroking your cock in front of my face.
"Please Sean, give me a cum shampoo. My hair has been waiting for it, needing it. I'll do anything for my cum shampoo, anything at all. Just shoot that white creamy cum all over my hair Sean. Please, please, please I need your cum in my hair, please Sean, I beg you."
I run my fingers through my hair and over my face as I feel your first burst of cum hit me, covering my fingers, face and hair. Then more cum lands in my hair, I giggle in surprise as you just cumming so much "Thank you Sean, thank you thank you" as you keep cumming in my hair.
I stand up and smile at you as you finish, wrapping my arms around before going to the restroom to clean up "I hope this is good for my hair" I say to myself, leaving a little cum in my hair for the walk home.
*****************************************************************************
The above story was written by a client of mine for a custom recording they wanted made. I did not write it, nor do I claim to. I asked for permission to post it and was told I could for others to enjoy it. No one else has permission to copy it or post it.