A 13 min 12 sec recording. A tranny is used by two men and treated like a little cumslut.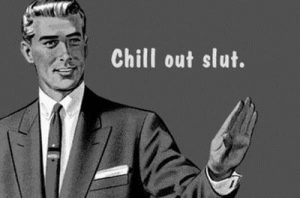 Listen to "Cum Slut"
To listen to this story, click.
"Cum Slut"
"Suck him for me." He said grabbing her hair and guiding her face down onto the tied man's hard cock. "Suck him good and make me proud." He whispered in her ear and she began to suck and lick him with great effort to please her master.
Her master leaned close and watched the hard nine inch cock vanish into her greedy mouth. "Awwww…see? I knew you were such a good little cock sucker for me. Such a good little whore for me."
She looked at him and saw the arousal in his eyes watching her suck this man. The idea that she was being watched had always turned her on but, being forced to do it, his hand guiding her sucking with held hair that intensified it a thousand fold. Feeling him push her down onto the cock, make her take the full length down her throat that made her crazy horny.
She could barely keep from touching herself and getting off she was so turned on. But she was good, she concentrated on the cock instead, giving it the best blow job he had ever had. She made lots of wet sloppy sucking sounds as her face bobbed up and down the length, squeezing the shaft with her lips and then letting the head pull her lips apart with a "pop" sound. Then he would push her back down and she would suck it all the way to the base . . . even dart out her tongue and tickle the balls.
The man moaned in pleasure and her master's hand caressed her back and down to her ass. He was getting so turned on too watching her. She felt his fingers tease under the waist band of her panties, he wanted to rip them off she could tell but, he waited, made her earn that. Instead he slid his hand up and played with her big hanging tits, pulling on the nipples until she moaned in pleasure.
God it was hard not to touch herself. To not give in to that craving, that need to get off. She was so turned on . . . so fuckin horny. He pulled on her nipple again and whispered sweet filthy nasty things in her ear as she sucked. Telling her what a good cum slut she was. Telling her how much he loved seeing her being used. She loved it . . . loved pleasing him. She sucked faster. He pushed her head down and held it there until she couldn't breathe and then let her bob up for a breath.
"Suck him good baby girl.. . ..Suck him good and I will fuck you like you have never been fucked." He promised in her ear. She moaned. She needed it. She needed to be fucked and he knew it.
As she doubled her efforts at sucking the cock, Master slid his hand down and into her panties, caressing her ass cheeks and playing with her asshole. She arched her back so that her asshole was easier to get to and he laughed. Ya, he knew she needed to get ram fucked hard.
Pulling his hand out, he grabbed the elastic waist and pulled on it, making the panties cut into her belly with delicious pain. "Suck it…ya. . .suck it!" he urged her on.
Then with a great pull, he tore the panties like they were tissue paper. The satin fabric shredded and ripped away from her ass and as he kept tearing, fell in tatters around her legs. Immediately she felt the cold rush of air sweep between her legs, she was free. Her cock immediately swung to full erection, rock hard and throbbing. Master laughed and reached down and grabbed it and squeezed it tight.
"Mmmmmm and what have we here?" He asked playfully, stroking her as he did, the precum drizzling from her hole making her head slippery. "Someone's horny." He said and nipped her ear lobe.
She fucked her face down hard on the cock, moaning and trying to grind her own cock into Master's hand. She needed to cum. She silently begged him with her eyes but, he laughed and squeezed her again and let her go. He grabbed a bottle of oil from the table behind him and poured it on her back, watching it drip down her body and then smearing it down her ass crack. She groaned and lifted her ass up for him and he slid two fingers into her asshole.
"This asshole has been fucked hard. I can tell. Sloppy and wet lil slutty hole. You want it filled." She nodded, mouth full of cock. "Ya.. . I bet you do. You want to be fucked in every way don't you?" He asked and she tried to nod again but he slammed her face back down onto the cock. "Then suck!"
She did as she was told, his fingers fucking her ass deep, she sucked the cock, her head bobbing up and down in time with the fingers. He pulled the fingers out and poured more oil on her, making her a sloppy slippery mess. Then his fingers came back, he thrust them in and pulled them out, fucking back into her and then all the way out again. In seconds her asshole was gaping open, ready to take his huge cock.
She moaned and thrust her ass up higher, begging him with her body to fuck her. He laughed and kept fucking his fingers in and out of her, leaving her wide open, begging for cock. He pulled his fingers out and squirted oil directly into her asshole so it drooled out of her. The tickle was almost too much. She slammed her own face up and down on the cock, sucking and fucking her face with it. She needed to get fucked!
Finally Master was behind her. His hands slapping her ass viscously hard, making her squeal and moan. She knew her ass cheeks were bright red as he spanked her, bright red and spread wide, just like he liked them. She reached up and grabbed the man's balls, squeezing them as she sucked him. He moaned and tried to thrust into her mouth deeper, she obliged and sucked him to the base again and licked his balls.
"Such a good little cock whore." Master said and she nodded, he face sliding up the cock as she did. "You've earned it." He said and she braced herself.
Master was a very big man. His cock was huge, well past 10 inches and thick. So when he thrust it into her gaping hole in one long hard thrust, she screamed in pain and pleasure at once. It spread her wide, felt like it would shred her like her panties, filled her beyond words, and then the balls slapped her balls as he struck bottom. He gave her a second to adjust and then began to hammer fuck her mercilessly. His cock pulled all the way out and then fucked back into her hard. She was stretched and left gaping.
The cock in her mouth was throbbing and twitching. She knew it would explode soon. She tried to pay attention to it but the cock hammering her ass was so intense. . .so encompassing. She screamed around the cock and the vibrations sent the man over the edge. Now he grabbed her hair and fucked her face hard and deep, the smear of cum wetting her mouth. . .promising more to cum.
Master slammed into her hard and the man gagged her with his cock. The feeling of being so full was so incredible, she never wanted it to end. Then the cum started. Both ends at once. Both cocks unleashing a torrent of hot, sticky, sweet, cum into her. It was like she would explode, so much squirting into her at once. Master growled and slapped her ass hard and she burned with the fire of the pain as she gulped down mouthful after mouthful of cum.
Both men kept fucking into her holes, draining themselves fully in her, pumping her so full she dripped out either end and still they thrust in and out making wet squishy sounds as they did. Using her. Milking every last drop into her. She was so completely stuffed as they finally began to go flaccid. They both pulled out and allowed her to drop onto the floor.
She lay there and dripped cum from both ends of her and quivered. Then master's hand was on her again, stroking her. She moaned and turned over, feeling him rub the cum from her chin onto her cock shaft so he could pump it fast and hard. She kept her eyes closed and got lost in his touch. Feeling his big hand sliding up and down, milking her closer and closer to cumming but, she held back. She was a good girl.
Then finally his growl in her ear. "Cum now."
His permission given she let loose; she felt like her body burnt up as she shot a geyser of hot cum in the air, it landed back on her tits and belly as Master deftly milked her dry. Squeezing and stroking, draining her. She screamed, her cock now so sensitive it hurt to be stroked over the head. Master laughed and let her half hard cock fall to her belly. She lay there, covered in all of their cum. She was such a good little cum slut.
************************************************************************************
This story was part of a collection I bought. I did not write it, nor do I claim to. I have the right to post it and have made the recording of it.