The story continues as the wealthy woman and her husband's employee get up to naughtiness and visit a sex toy store and buy some toys for themselves.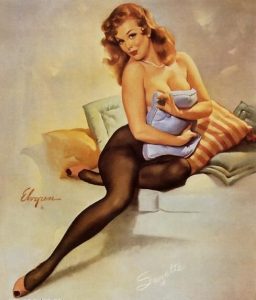 To Listen To This Story, Click
A 17 min 12 sec recording.
I slowly open my pretty eyes, while having a big, happy smile on my face. I awaken in the very nice leather passenger seat. The wonderful aromatic smell of my pussy juice floods my nostrils. My inner thighs, my ass, and my panty-covered cunt are sticky with my sweetness. I enjoy the warm air of the car's heater passing over my huge, naked titties and my elongated nipples.
Giggle! I happily remember cumming so hard in Michael's BMW! Despite being commanded to orgasm from Michael's strange control over me, I thoroughly enjoyed having a mind-blowing climax. I have never gushed so much before!
I look at the car's dashboard clock to see how long I was passed out, and then see that maybe fifteen minutes have passed. Despite my brief power nap, I still feel incredibly drained from my earth-shattering orgasm. I then see Michael finishing off the last bite of his fast food order.
I groan in disappointment, "Damn it! I'm still in your car."
Michael kindly offers the rest of his large soda, and then tells me that it's okay to drink. I rarely drink soda, as I've read on what the chemicals in soda can do to the human body. I'm very parched, where I'm guessing that I lost a lot of fluids from cumming so hard and gushing out so much. I gladly take the offered soda, and then hurriedly sip down the remaining one-fourth of the drink! I'm gulping down the soda so quickly that my lovely cheeks have caved in. I only stop drinking when I'm making the loud sucking sounds through the straw.
I want to toss the empty, plastic container at Michael…Sigh!…but I can't! I realize that Michael has only allowed me to finish the drink. I'm…Fuck me!…frustrated that I'm still under Michael's control!
Michael orders me to put my expensive dress back on to cover up my big titties again. He then puts his BMW into gear, and then drives off.
I angrily demand to know, "Where the fuck are we going?!?"
Michael commands me to tell me all of the sex toys that I have.
I manage to blurt out in shock, "What the fuck–?!?"
I then act upon the latest order the Asian guy has given me. I try to resist, as not even my gay husband knows what kind of sex toys that I have! My resistance is futile. Soon, I am rattling off to Michael the assortment of vibrators, dildos, lubes, and beads that I have. I even talk about my double-headed dildo, when I need something in my pussy and in my ass…Moan!…at the same time.
I have one last dildo to talk about, but it's my very secret dildo. Not even the cleaning maid has accidentally found my secret sex toyI I call up all of my willpower to stop talking, but I keep blabbering on! I blush in embarrassment when reveal the big, black monster-sized dildo…Oh fuck!…that I have when I'm the mood to play out my Mandingo fantasy. I find my pussy getting hot and moist, as I remember the last time…Giggle!…that I fucked myself with my black monster cock!
My mind plunges into my big, black cock fantasy. I always start my Mandingo fantasy with my tall, muscular Afro-American entering my bed chamber. I've even named my dark skinned hunk as…Giggle!…Big Dick John.
I always imagine Big Dick John naked with the lights shining on his strong, rippling muscles. I marvel upon…Gasp!…seeing the gigantic erection of his huge, thick dick! Despite his height and muscular body, his monster-sized cock looks like a huge, hanging baseball bat!
I never ever have needed to lube my waiting pussy for my enormous, black dildo. I always try to ram…Oh fuck!…my monster-sized sex toy into my cunt, but my tight fuck hole can only take the gigantic head and the first few inches of the dark shaft.
I always verbally protest for my Big Dick John to stop. And for my dark skinned fantasy hunk to be gentle. None of this happens, of course, as I work…Hmm-hmm!…the entire long, thick shaft of my huge dildo into my pussy! I saw my monster-sized dildo in and out of my stretched out cunt, until my black dildo slides easily and quickly in and out of my fuck hole. I'm so incredibly turned on as the dark shaft is coated with globs of my feminine jizz.
I fuck myself silly with my monster-sized, black cock…Fucking shit!…until I explode with my first orgasm! I keep fucking myself with my dark dildo non-stop, as I fantasize that my Big Dick John ravishes me as his white skinned beauty! When I'm utterly exhausted, I imagine…Oh yes!…that my dark skinned hunk breeds me by blasting all of his cum into me.
I'm so worn out that I usually fall asleep for a short power nap. While I'm sleeping, my monster-sized, black dildo slips out of me…Hmm!…along with the tidal wave of my sweet juice and cream.
I'm so lost in my recollection about my Mandingo fantasy, where I fail to notice where Michael has driven us to. I look at the bright billiard to see…Gasp!…that we're at an adult store!
I shriek in panic, "A sex shop?!? What the fuck are we doing here!?!"
Michael tells me to silently remove my panties. I want to angrily protest that there's no way in fucking hell that my white panties are coming off! I gasp in surprise and in horror, as my sexy body moves on its own! My hands deftly grasp the sides of my cum-soaked panties, and then…Oh no!…swiftly remove my white panties. I look at my white panties, and then see how much I drenched my undergarment with my pussy juice and feminine jizz!
My Asian captor relieves me of my drenched panties, and then breathes in my sweetness. He compliments me on how lovely I smell! And that I smell better than the sweetest, juiciest peach that he could hope to find.
I cannot help smiling and blushing from Michael's wonderful compliment! I've never had anyone tell me how wonderful my pussy juice smells. And, in fact, I recall that none of the young studs that I've fucked have ever taken the time to lick or eat out my muff! I'm tempted to ask Michael if he would enjoy eating me out? I can't say anything as he's commanded to be mute! I feel my cunt tingling with excitement and becoming juicer, as my vivid imagination flashes with the thought of Michael's mouth clamped onto my needy snatch.
Michael tells me to follow him, and then we are soon inside the adult store. I must look very odd to the two guys working inside. I'm dressed in a very expensive white dress. I have lots of makeup on. And my hair is complete mess! I see both men lustfully leering at me. They must think that I'm a high-class prostitute accompanying Michael, and would never guess that I'm actually a high society lady. No doubt both men think that I've given Michael a nasty, sloppy blowjob before we entered their swanky establishment.
Michael and I are standing at one of the sections of sex toys that are lined from wall to wall in the shop. He whispers into my ear that I'm allowed to talk about the sex toys that I see. I don't comment on many of the sex toys, as I have something very similar to them at home.
My pretty eyes light up when I see the vibrating nipple clamps! I confess to Michael that I love having my long, pointy nipples played with…Moan!…but that none of the young studs never want to play with my big nips for that long. I'm excited when Michael grabs one of the vibrating nipple clamps to purchase! I even whisper a sincere "Thank you!" to him.
We are next standing in front of the many butt plugs that are available. Michael asks me if I've allowed any of the young studs to fuck me in my ass? Still under his thrall, I'm compelled to truthfully reveal that I've only let my gay husband butt fuck me when we were dating and on our honeymoon. After my husband found his gay partner, he stopped fucking my ass. I sternly state to Michael that I have a golden rule that I don't have anal sex with anyone, unless I have affections for him.
I find myself gawking at all of the different sized butt plugs that are on display! My pretty eyes lock onto a large plastic, bright red butt plug with a horse-like tail attached to it. The packaging's label states that the butt plug's tip is a half-inch wide, while the base is…Holy fuck!…three-inches wide! Three-inches wide?!? My gay husband's cock has an impressive girth, and has stretched out my ass quite well. His huge cock is the only reason why I let my husband repeatedly butt fuck me.
Michael notices that I'm staring at the huge, bright red butt plug. He asks me if I'm interested in this sex toy.
I nervously stammer, "N-No."
Despite my initial denial, my muff tingles with excitement. I fondly remember how much my husband's thick shaft ripped open my butt. I must be an anal slut at heart, because I desire having my asshole stuffed and pounded again.
I excitedly blurt out, "Yes!"
In my mind's eye, I compare the small size of my tight, puckered asshole against the super-wide girth of the bright red butt plug. Would I really be able to get the three-inch base past my anal ring?!? And would this butt plug destroy my ass?
I whimper in fear, "It's so big!"
I force myself to suppress my joy, when Michael grabs the huge butt plug. I'm gratefully relieved when he also grabs a bottle of silicon-based lube.
Michael brings me to the checkout counter to make his purchases. I still see both store workers still leering at me. I notice Polaroids of naked women posted behind the counter. I also notice the sign stating on how there's no sex allowed in the private viewing booths. The putrid smell of sex and cum, which has never been cleaned up, lingers somewhere behind the counter. This tells me that the two workers have had plenty of raunchy, dirty sex here.
Both store workers inquire how much do I charge to give a blowjob? Both guys still think I'm a white thrash prostitute. The more I look at these two guys, then the more I realize that they'd use me and abuse me for their personal pleasure. Unlike a gonzo porno, I truly fear that they would come close in raping me.
Michael sees my fear in having any kind of sex with these two losers! He can tell that there's no way that I will suck those guys off! I know that Michael could probably command me to give both workers blow jobs, but I believe that he's more of a gentleman than that.
During the few seconds that pass, I cannot help imagining the horror in Michael ordering me pleasure these two losers. In my mind, I see myself kneeling naked before the two store workers while I suck them off. They would take turns passing me back and forth. Their hard cocks would be shoved down my throat. They would grab my long, luscious hair and then angrily pound their dicks to face fuck me. They would probably force me to jack them off, until they ejaculated all over my face and hair. No doubt they would take Polaroids of my cum splattered face as their personal trophies to boast about over and over again.
I'm relieved when the store's entrance dings again, as another guy walks into the adult shop.
Michael proclaims that I'm not prostitute, and then provides his credit card for his sex toy purchases.
I breathe of a huge sigh of relief when we're back in Michael's BMW. I somehow still have the ability to speak. I tell Michael that I never want to come back here again!
*****************************************************************************
The above story was written by a client of mine for a custom recording they wanted made. I did not write it, nor do I claim to. I asked for permission to post it and was told I could for others to enjoy it. No one else has permission to copy it or post it.