An 8 min 20 sec recording. A couple has some naughty fun in the shower washing and getting dirty again.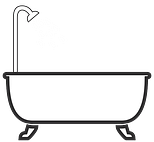 Listen to "Beauty Secret"
To listen to this story, click.
I heard the water running when I woke up. My eyes slowly opening as I smelled her perfume from the night before on the pillow next to me, the smell of our sweat and sex still in the air. I stretched and tossed the covers off me, taking a few minutes to really enjoy the first morning stretches. God, I was so sore. Last night had been. . . a workout for us both.
The sound of the water running and her splashing in the bathroom got my attention back and the thought of her nude and all covered in suds made my cock hard instantly. Smiling I got up and walked to the open door to the bathroom and peeked in.
Stacy was standing there naked, the shower curtain pulled back enough so that I could catch glimpses of her as she moved around washing herself. The clear plastic did little to hide her actually but the clear, unobstructed view was even better then the partially steamed up curtain. I reached down and began to slowly stroke myself watching her.
She turned to rinse her back and saw me and smiled that smile that can melt any man. Watching me slowly stroke myself she bit her lip and grinned and pulled the curtain back for me to get a better view. The site of her nude body was, as always, breathtaking. Her blonde hair was not wet and framed her beautiful face as she smiled and watched me watch her.
She ran her hands over her sexy tits, full and firm, nipples rock hard and waiting to be sucked. Then her hands ran to her hips, sweet and curvy, just hinting at that perfect ass of hers. Then down to her hard cock, she smiled and stroked it in time with me, squeezing hard as her delicate fingers slid up and down the shaft.
As I watched she turned and, making sure I was watching her sexy ass as she bent over, picked up a bottle of baby oil. Turning back to me, she began to squirt it over her breasts until the front of her body glistened in the light. She poured more over each succulent breast until she was slick and slippery. Her hands slid effortlessly over her nude body and she squeezed and played with her tits for me.
I was stroking and panting from excitement. She turned and poured more oil over her ass cheeks until the slick liquid ran down the crack of her ass and her cheeks were shiny and tempting. Laughing, she spanked herself once and sprayed oil all around and then ran her fingers down the crack of her ass and spread herself wide open for me to see.
That was almost too much. I had sweat trickling down my body as I stroked my cock faster and faster. Stacy slid two fingers into her ass and began to finger fuck herself, looking over her shoulder to make sure I was paying attention. She got that look in her eyes then, that hungry-sexy-vixen-I can eat you whole, look. She was stroking herself and fucking herself and her skin all slippery and glistening. She was pure fucking sex.
I moved over to her, still stroking my cock and stood at the edge of the tub. We didn't touch we just watched each other. My breath was ragged as I got so close to cumming. . .I wanted to cover her. She smiled, she knew what I was thinking about and she loved it. Sliding her fingers out of her ass she knelt down in the tub facing me. She never lost a beat stroking her cock as fast as I was but now she also played with her tits for me.
I couldn't hold back any more, I grunted and moaned and began to cum. Stroking hard and fast I sprayed her face and tits with gush after gush of hot sticky cum and she licked and rubbed it all over herself as fast as I could shoot it. She smeared cum all over her tits and face, licking her fingers clean. I kept cumming and cumming, I don't think I have ever cum that hard but finally I shook the last drops onto her and she smiled and licked them up like a kitty and cream.
Still stroking my shrinking cock, I shivered as my hand slid over the sensitive head. My cum made my cock slippery and the feeling of my hand sliding up and down the shaft was making my knees week.
Stacy moaned and I stared at her, watching as she let herself slide down in the tub and lay down on her back. Boosting her ass up in the air she began to cum all over herself. . .adding to my cum and coating herself from belly to face. I knelt down and began to smear the hot salty cum all over her and she kept stroking until she was milked dry. She was covered and I rubbed my cum covered fingers across her lips. She laughed and sat up and kissed me, the kiss tasting like pure sex.
She kept rubbing the cum all over, down her arms and her legs until she was completely covered. Then she stood up and dipped back under the water and let the hot spray wash her clean. Her hands sliding again over her perfect body.
She finally turned off the water and smiled at me, motioning for a towel. Still a lil shaky, I handed her the towel and sat down on the closed toilet to watch her dry off. She smiled and licked her lips and laughed and winked at me. So now I know her beauty secret and how she keeps her skin with that wonderful glow to it and of course, I help her out with that any time I can.
************************************************************************************
This story was part of a collection I bought. I did not write it, nor do I claim to. I have the right to post it and have made the recording of it.