A young woman gets a lot more than a cleaning at the dentist when the dentist and his assistant wife show her a hot and sexy time.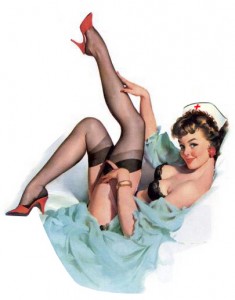 To Listen To Me Read This Story, Click
"A Trip To The Dentist" 6 min 15 sec recording.
Sabrina arrived early, as usual at the dentists. She signed all of the forms and was pleasantly ushered in. She'd noticed a few changes since her last check up 6 months before. Some new wallpaper and paintings on the wall, some better background music than before. Even her dentist looked better, a bit more stylish than he had, and friendlier. She silently wondered what had brought forth these improvements.
The dentist's wife had always been his assistant. A nice, quiet little practice. Sabrina quietly settled into the comfortable reclining chair and then Dr. Carson asked if she was just there for a check up, or if she'd come in for "the full treatment." "What's the full treatment'?", she innocently enquired. Dr. Carson and his wife looked quickly at each other awaiting Sabrina's response.
"I think you'll like the full treatment. It's fairly new, no charge for our preferred, long time patients like you." "So we're going for the full treatment then?", Dr. Carson asked. "Sure, I'll try it," she responded. Mrs. Carson closed the door and locked it. Sabrina wondered what on earth was going to happen, but she'd known and trusted them both for years, so she felt safe.
Mrs. Carson went to the foot of the new dental chair and pulled out a pair of hidden stirrups. Sabrina was starting to get the idea. Dr. Carson put on the mask of laughing gas on her and she inhaled deeply. She could start to feel herself getting wet. Mrs.Carson pushed up Sabrina's skirt around her waist and pulled off her flowered cotton panties and then guided her feet into the stirrups and pushed her knees apart. The laughing gas was starting to make her all relaxed and floaty feeling.
Sabrina looked over at Dr. Carson and saw him unzipping his pants. He withdrew a rather large cock that was already rock hard. He started to slowly rub it rhythmically back and forth in his powerful hand while watching his wife. Mrs. Carson raised the foot end of the chair and lowered her mouth onto Sabrina's fully exposed dripping,wet, pink, shaved pussy lips. She lapped at her juices, kissed her clit and sucked on it pulling it into her mouth and encircling it with her tongue while moving two fingers in and out of Sabrina's aching for release cunt. She writhed in the chair as her pussy was worked on expertly, all while watching Dr. Carson pump his cock up and down beside her as he watched his wife.
Sabrina inhaled deeply from the mask. She wasn't sure if it was a dream, or real, she only knew she didn't want it to stop.
Sabrina was half way to her zenith when Dr. Carson offered her his cock that was already glistening with pre cum. She opened her mouth and licked at it's salty head. Flicking its eye back and forth and swirling its head with her tongue. He placed his hand on the back of her head and forced her to take its entire length down her throat. Sabrina was so relaxed and feeling floaty from the laughing gas she was easily took it down her throat as he fucked her mouth. She moved her lips up and down the length of his shaft as she was getting licked and finger fucked by his wife.
Dr. Carson asked his wife if she was nearly ready. She nodded. Sabrina wondered what was next. He withdrew his cock from her mouth and went down towards his wife. Mrs. Carson climbed onto the bottom of the chair, right above Sabrina save for a few inches. Her hardened nipples were grazing against Sabrina's face and she unbuttoned Mrs. Carson's blouse to get at her breasts. She unhooked her bra and started sucking on one of her nipples and playing with her other breast, tweaking and pulling on her nipple. Dr. Carson pulled his wife's skirt up around her hips and pulled her panties down to her knees. He then pushed his throbbing cock into her soaking wet pussy and fucked her hard. The dental chair and the women shaking back and forth with each powerful thrust he gave her. Sabrina could look down and see him plunging in and out of his wife. She felt left out since they hadn't finished her off yet. Mrs. Carson tensed with an orgasm and groaned loudly almost right in Sabrina's ear, but Dr. Carson didn't cum yet. Mrs. Carson climbed off of Sabrina and stepped to the side to watch the proceedings.
Dr. Carson got on top of Sabrina and his cock slid easily into her, still dripping with his wife's pussy juices. Sabrina inhaled deeply,feeling as if she were floating as she got fucked slowly, and firmly. She grabbed his shoulders to pace him,and turned her head to see Mrs. Carson masturbating herself to a second orgasm as she watched her husband fuck Sabrina hard. Sabrina came explosively and then she felt Dr. Carson go off inside of her, in hot, wet spurts.
After he came, he pulled his cock out of her and his wife dropped to her knees and licked Sabrina's pussy juices off of his still throbbing cock until he came a second time right down her throat as Sabrina watched and stroked herself until she came again. They were all breathing heavily and rested a moment.
Mrs. Carson then unlocked the door and showed Sabrina to the ladies room to clean up. When she emerged a few moments later, she sat back down for her cleaning as if nothing had happened.
On her way out to make her next appointment, Mrs. Carson asked if that was just going to be for another cleaning, or if it would be for another "full treatment". Sabrina replied,"the full treatment, please."
*******************************************************************************
The above story was written by me. If you see the above story posted on any other websites than Climax Connection, Literotica or Lush Stories, it has been stolen, posted and copied without my permission. Please notify me if you see it on any other sites.