A woman wants to make her husband's birthday very special and her wish is so strong, it comes true, a twin of herself is brought into being for one magical night and they have a fantastic threesome.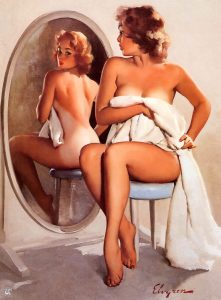 To Listen To This Story, Click
A 37 min 07 sec recording.
While waiting for my Husband and Master to return from work, I decided to take a walk along the beach. As I walked, I thought about the chocolate mint ice cream cake I made, the thirty-five blue candles, the neatly wrapped blue and silver birthday gifts, the Camelot Mead resting on a bed of ice, and how we had the house to ourselves for the evening. It was getting dark and the beach was deserted. I began to feel something different, as I strolled along the shore. I stopped and looked out into the moonlit water.
The warm waves lapped at my toes in the moist sand. Suddenly a shell emerged from the deep blue waters. I looked around, but I was alone. The shell slowly began to open and soon a woman appeared, standing in the opened shell. She was tall and voluptuous. Her long golden tresses curved over her breasts and a single shell covered her opening. "I am Venus – Goddess of Love," she spoke, "and I sense that love is troubling you my dear." "Yes." I replied softly.
I couldn't believe what was happening, but I decided to take a chance, "Today is my husband's 35th birthday. But what he would truly like is a birthday gift I am unable to give him," I said. "What might that be, my dear?" Venus replied, "Please tell me. Your love and passion for your husband has summoned me on this very special night and 'impossible' dreams may come true because of your love." Excited and encouraged by her words I replied, "My husband recently had a very intimate dream. He dreamed that I had an identical twin and that we bedded him, together, giving him the most intense and passionate experience of his life," I explained. "The passion in his dream was created not from being with another woman but from having, as he said, 'an identical version of myself.' But, alas, dear Venus, I have no twin, no sisters, or even a close friend who might resemble me."
I looked up and Venus smiled. "I will make your troubles gone, my dear," she said eagerly. Venus waved her arms in the air. The sand swirled around me as I swayed with the force of the wind. I was becoming so cold, then everything stopped and the air was warm and thick. "Look beside you," Venus directed. I turned to my left and looked into my very own eyes. I did not understand. It was me – another me – exact in every detail! "Now you can please your husband with the intimate gift you both desire. She will follow your every instruction and do only as you command. You have six hours – do make them wonderful! As the words left her lips, Venus turned and walked back into her shell. Before I could thank her, the shell had closed and disappeared beneath the deep blue sea.
I turned again to my left, smiled and said, "Hi. My name is Diane." She smiled back and said, "Hi. My name is Diane." I took her hand in mine and we walked back to our house. I brushed her hair, touched up her makeup, and applied glossy red lipstick to her lips and then mine. We both looked so hot! I looked through my closet and found two of my favorite negligées – both a pretty shade of pink with tiny matching micro G-strings. Both were incredibly sheer, alluring, and provided only minimal coverage. We quickly changed into them!
My twin's nightie dropped to just below her breasts, barely covering the underside of her voluptuous curves, while mine opened down the middle, exposing my cleavage and belly button, and flared just above the bikini line in sensuous scalloped lace. Both sides were held in place by only two delicate ribbons that strained against the weight and fullness of my breasts and threatened to come undone without warning. The designers had embroidered tiny pink hearts into the sheer fabric of the tops and G-strings for a perfect mixture of innocence and romance. I was so pleased. Master Baron would be home any minute, so I found his favorite smooth jazz collection – the Best of Coltrane – for the Bose stereo system, lit candles throughout the house, and set up our video cameras in several rooms to record this night forever.
I soon heard his BMW pull up and his key in the lock on the door. Master Baron walked in, "Hi Honey. I'm home!" He looked up in utter amazement as his jaw fell open. "Happy Birthday!" we said in unison. Master Baron could not believe his eyes. "Shhh!" we said as we both put a finger to his lips. We took him by the hands, sat him in his recliner, and poured a glass of mead for him to drink. I turned on the video cameras and increased the volume on the Bose stereo until we were engulfed in a deep, rhythmic, and pulsating beat. Our home was ready for romance and fun. My twin and I began a slow strip tease for Master Baron's viewing pleasure.
Our hips swayed, our hands caressed each others breasts and buttocks and we kissed softly on the lips. I could see the rise in Master Baron's crisply pressed trousers – long and hard. First the right shoulder straps came down and then the left exposing our firm sensuous breasts. Wasting no time we gently kissed, licked, and sucked at each other's hard tight nipples and crinkled areolas while our hips swayed to the seductive sounds of the saxophone and bass.
Hugging each other tightly, as if to prevent escape, we kissed and explored each other's mouths with our soft lips and tongues, then began slowly and firmly spanking each other's bottoms with crisp hard slaps that echoed and reverberated throughout the room – a total of 35 spanks each – one in honor of every birthday Master Baron had celebrated. The sexy stinging spanks had their desired effect. Our lovely heart-shaped bottoms quickly turned a pretty shade of pink that matched our negligées and soon we were both moaning in pain and pleasure – consumed with desire for more. Master Baron smiled ever so wickedly.
We teased and danced around him, brushing our breasts across his face and chest – pausing ever so briefly to let him kiss and suck at our nipples, then quickly pulling away. Soon, however, we turned up the heat and began lap-dancing like strippers at a club pushing and grinding our hot wet cunts onto his throbbing cock still trapped inside his trousers. Master Baron's pleasure was evident and we could tell that it was taking every ounce of his restraint to not take control, assert his role as Master, and use us wickedly for his pleasure – the pleasure we so desperately wished to give him!
Hot, bothered, and consumed with desire, we stripped off our negligées and danced before him in just our pretty pink G-strings. He could clearly see the moist spots on the tiny indecent fabric swatches between our legs and we teased him with a quick glimpse of our fingers pleasing each other's clits. I told my twin to stay still as I passionately kissed her mouth and tongue then playfully teased both her breasts and twisted and pulled her hardened nipples. To my amazement I could now feel what she was feeling. It was unbelievable!
My kiss apparently had unlocked an additional pleasure. We now both felt exactly what the other was feeling. I sucked hard on both her nipples, licking, biting, and fucking them with my tongue – feeling each sensation pulsating through my body – until I thought we would both scream! I then knelt beneath her legs and kissed her through her G-string. Soon we were both writhing in pleasure as I gently bit her nether lips up and down and circled my tongue around her clit through the sheer lace of the fabric. It felt so incredibly good I could barely concentrate. I then lay back on the floor and told my twin to do the same to me. Master Baron was so aroused that his passion and desire was visibly evident. He moved in for an even closer look and began cheering us on with lewd and scintillating comments!
My twin began slowly and passionately kissing my mouth, neck, shoulders, and breasts. But in short order she grabbed and then massaged each of my breasts as if they were putty in her hands. She twisted and pulled my nipples until I had tears in my eyes and then she took them into her hot mouth and made me beg her to suck them even more. Her fingers were fucking my cunt as she slowly kissed her way down to my thighs. She pulled off my G-string and began kissing my cunt with an urgency and desire that bordered on fury. Then she began licking and kissing my clit until I screamed in delight. Finally, she kissed me gently, but firmly, on the lips forcing me to taste my own sweet juices, before helping me on to my feet.
We both freshened up in the bathroom and returned to see that Master Baron was genuinely impressed. We took Him by the hand and walked him to the dining room for his next surprise. Lighting the candles on his cake, we sang Happy Birthday to him, Marilyn Monroe style, and walked seductively towards him, hips swaying and breasts gently bouncing with each little step. Master Baron blew out the candles and stated that his wish had already come true! We continued to enjoy each other's company, drank more honey mead, and ate cake and frosting from each other's finger tips. My twin and I then took turns helping Master Baron unwrap his birthday presents.
The first gift was a full set of professionally produced nude and semi-nude photographs of me bound in red silk Shibari, tied in every conceivable position, and set against backdrops of black and white chiffon. To complement my submissively erotic poses I had worn only a locking red collar and fire engine red 6-inch stiletto fuck-me heels and nothing more. The second gift was a red leather chastity belt, custom-made to fit my every curve, with little heart-shaped locks and a single silver key on a gold chain that Master Baron could wear around his neck or secure in his wall safe. His third gift was the identical set of red silk cords and red leather collar used in my Shibari photo session, beautifully displayed in a hand-carved, locking mahogany box bearing his initials, and secured with the same silver key. Master Baron's face showed his pleasure and appreciation for each deliciously sexy gift while our naked bodies – fragrant with Chanel No. 5 and the smell of sex – teased and taunted him.
I mixed Master Baron a natural aphrodisiac of ginseng tea, Nexcite, clover honey, and mint spiked with two shots of vanilla vodka. He swallowed it down eagerly but there was little doubt in my mind that he already possessed the energy and passion we needed and desired. Our delicious treats had inspired him and the anticipation of even more surprises to come had his blood boiling. When the gifts had all been opened and wine bottles emptied we retired upstairs to our master bedroom.
Whispering in her ear, I gave my twin explicit instructions, to which she smiled mischievously and nodded her eager agreement. Master Baron was not permitted to hear. We slowly undressed him and as we did his already rock-hard cock began to throb in anticipation. We laid him on the bed and massaged him with heated oils. Not a crevice was left untouched. We took turns teasing his ass, pushing our tongues gently but unyieldingly into his tight virgin hole, and playfully slapping his ass cheeks if he seemed to enjoy it too much. Turning him on his side, I slid one finger deep into his ass while my twin licked and sucked at the very tip of his cock.
Soon I had two fingers fucking his ass, then three, while she was sucking his cock deeply into her sensuously warm, wet, and inviting mouth. Baron began to gasp and moan thrusting and bucking in anticipation of sweet release, but an early climax was Not part of my plan. "Not yet!" I exclaimed. My twin and I pulled him up to his knees while his huge rock-hard cock thrust in the air to no avail. Daring to assert my new-found authority, I pulled his hair back forcing his chin up, and looked deep into his eyes, then smiled and whispered "You're mine now and I'm in control for the remainder of the evening." I placed my lips on his as if to sweetly kiss him but instead bit his lower lip – hard – so he knew I really meant it.
This was a daring move on my part and I waited nervously to see if he would throw me over his knees and spank me unmercifully for daring to be an insolent and demanding tease or whether he would give in to my demands and temporary role reversal. Sensing his desire for more I pushed the envelope even further and regally stood before him with my bare pussy just inches from his mouth. "If you agree, darling, place your hands at your sides, push your tongue deep into my cunt, and kiss me like you've never kissed before." I had my answer just a moment later.
Master Baron stilled his entire body, dropped his hands to his sides, then pushed his tongue deep into my cunt and began feverishly licking and kissing, while his cock pulsated uncontrollably and silently begged for release. Reigning in his passion and giving control to another, let alone his sexy submissive wife of 15 years, was something entirely unfamiliar to him but yet he obeyed, instinctively understanding that his temporary submission would lead to even greater pleasures. Gratified and thrilled, I excused myself, to ensure that all cameras were on and still capturing every bit of the action!
I returned a few minutes later and immediately replaced my fingers with an innocent looking dildo, just about eight inches in length, smooth, black, and about the width of Master Baron's own handsome cock. Placing him on all fours I began fucking his tight ass in earnest. No more teasing. No more playing. I wanted his ass to know it was being taken—taken completely by the woman he had taken so many times before—that I was making his ass into a hot yielding cunt, capable of pleasure, penetration, and submission, as I had so often presented my own hot, tight, and yielding ass to Him as a second cunt for His pleasure and satisfaction.
He trembled, groaned, and begged me to fuck him harder and deeper. Eagerly granting his wish, I increased the pace and fervently fucked his ass even deeper with one hand, while pulling and pinching his nipples with the other. Meanwhile my twin, doing exactly as she was told, was deep-throating Master Baron's cock to the point of swallowing him whole. His obedience and surrender had earned his birthday reward and I instructed Master Baron to prepare for the climax of his life! My twin sucked his cock up and down, harder and harder, as I fucked his ass deeper and deeper and pinched, pulled, and twisted his nipples unmercifully.
Then it happened. Master Baron groaned and moaned louder than I had ever heard him before, his body shaking, convulsing, and trembling like a human earthquake. Sweat poured over every inch of his body creating a glistening sheen on his taut, straining muscles! Like an explosive volcano Master Baron climaxed filling my twin's mouth with his pure white semen while she choked, then swallowed, then choked and swallowed some more, barely able to keep up with the sheer volume of his massive orgasm.
Overcome with a streak of jealousy and a desire to be part of the action, I rushed in and urgently licked up the little streams of hot white sperm escaping from the corners of her lips, spilling onto her cheeks and chin, and falling to her breasts. Not a single drop was to be wasted. Collecting up every glistening pearl drop, I fed his escaping semen to my sexy twin's hungry lips and mouth and as I did, I could taste Master Baron's strong and bitter mix just as surely as if I were swallowing him myself. When not a single drop remained, I licked my twin's lips clean with a possessiveness that was nearly palatable. Master Baron continued to tremble, shudder, and convulse, powerless to do anything except watch and succumb to the post-orgasmic bliss surrounding him and hoping we would now be merciful and sweet. My twin and I were pleased. We lay on both sides of Master Baron and caressed him softly.
Then, while gazing at my twin and observing her innocent yet wickedly seductive smile and incredibly sexy body, I instantly recognized myself, as that beautiful, sexy "slut" and "whore" to which Master Baron so often refers while we are in the heat of passion! I 'Was' the beautiful "private slut" and "personal whore" he so adores in our bedroom that pleases him so much. I looked down at my watch to see how much time we had remaining.
I poured Master Baron a tall glass of ice water and told him to rest and watch. My twin and I now took turns spanking each other's ass cheeks, breasts and cunts with whatever we could find. We used our hands, riding crops, leather whips, and soft gold chains. Small welts could be seen across our bodies. We moaned, cried and laughed for our Master's pleasure and delight. With our cunts dripping wet with desire, I pulled out our two-sided pliable pink dildo and licked and sucked both ends until it was wet and smooth. Getting down on all fours with our bottoms facing and nearly touching I inserted one end of the dildo into her cunt and the other into mine.
Slowly we rocked back and forth onto the dildo until our cunt lips were touching and our ass cheeks were gently caressing. Soon our clits were rubbing against each other's and sending waves of pleasure through our bodies. We both needed more and quickly adjusted positions. Keeping the ends of the dildo buried deep in our cunts, we enjoyed passionate French kisses, exploring each other's lips and tongues, while caressing each other's breasts and nipples. Master Baron was enjoying the show and loving every second of our passion! Finally, when we could take no more, we resumed our positions on all fours and fucked each other silly to a screaming, mind-bending climax that left us both moaning and panting with desire. We fell into the bed – blissful – but needing and wanting even more.
Watching the two of us orgasm in all our passion and glory was all Master Baron needed to be rock hard, again, and ready to fuck. Only an hour and a half remained and we had so much more fucking to accomplish. I strapped a dildo to Master Baron's mouth and told him to prepare to fuck like he had never done before. I laid him on his back and lathered his cock with warming KY oils. I then filled my twin's ass with the same warming oils to ensure a firm but smooth penetration. Thinking of the best positions for each of us, I laid my twin on her belly and placed pillows under her hips. Then I guided Master Baron's cock slowly but surely into her ass, allowing her time to accommodate his size and girth.
When his cock was fully engulfed by her ass, I climbed in front of her, pressing my body into the head board of our bed. I then spread my ass cheeks in front of his face and pushed the dildo deep inside my well-lubricated ass. I instructed Master Baron to fuck us both until all three of us had climaxed. Without hesitation he fucked our asses furiously with both his mouth and cock. She and I were both screaming, "Deeper, deeper! … Harder, harder!" Master Baron obediently complied as he fucked us both hard and deep until all three of us came trembling into each other's arms! I could hardly hear his cries through the thick dildo strapped over his mouth, but his smile – when I removed it – told me all I needed to know. I took hot wet towels and cleaned us thoroughly and gently.
I knew our time was getting short, but I wanted my twin to experience my husband in every way before she left us. I told her to lie down on the bed, spread her legs and ordered Master Baron to kiss her cunt until she exploded. I watched in amazement as "I" enjoyed being eaten by my husband! I reached over and played with her sexy breasts and hard tight nipples, kissing her fully on the mouth, my tongue fucking her tongue, while she came again and again! She was beautiful! I was beautiful! And my husband was in heaven! Lastly, she needed to be fucked by his cock, but I was so hot and needed some additional attention for myself too!
I told Master Baron to lie down on his back. While I straddled and rode his face I told my twin to mount him and ride his cock up and down with abandon. She did exactly as I commanded. With his cock deep inside of her cunt and his tongue deep inside of my cunt, we kissed and played with each other's breasts and nipples until we simply couldn't take any more. Master Baron's face was soaked from my hot wet juices and his breath was ragged from this frantic workout, but I ordered him not to stop until I gave him permission!
Obediently, he lapped up every drop of my honey and continued kissing and sucking my clit until I screamed, rocked, and moaned with pleasure! Just then I heard my twin echoing her own sweet sounds of pleasure like a symphony of erotic passion – crying out in feminine bliss – like only a truly satisfied "private slut" or "personal whore" can do. Not to be outdone Master Baron began a cacophony of his own deafening roars, grunts, and groans. Sounding like a barbarian warrior proclaiming victory with ancient "war-cries," in a language long since forgotten, he filled her captured "trophy cunt" with his hot scalding sperm – like a sacrificial offering to the gods – in demonstration of his strength, victory, and prowess.
Again, he shook, convulsed and rocked in pleasure. As our passion subsided and midnight approached, we gently lay beside Master Baron on his left and right sides and took turns licking his cock clean of our sweet juices, now mixed with his hot bitter semen, and relished the incredible taste of this bitter-sweet concoction. I took my twin in my arms, kissed her, and held her close to my breasts while Master Baron wrapped his arms around us both. I thanked her for this wonderful, magical night, and she thanked me for the pleasure she received and would always remember. Master Baron thanked us both profusely and kissed our cheeks with love and adoration. In an instant she was gone.
We lay together, Master Baron and I, wondering if it were all a dream, but the two sets of lingerie, three empty wine glasses and six hours of video let us know otherwise. It was my Master's best birthday ever and our marriage has never been better. Many nights we find ourselves walking along the beach, in the moonlight, hoping to see Venus, again, and wanting to thank her for making his fantasy come true.
*****************************************************************************
The above story was written by a client of mine for a custom recording they wanted made. I did not write it, nor do I claim to. I asked for permission to post it and was told I could for others to enjoy it. No one else has permission to copy it or post it.