A man gets more than he bargained for when he goes on an office interview and the lady interviewing him gets a little bit friendly.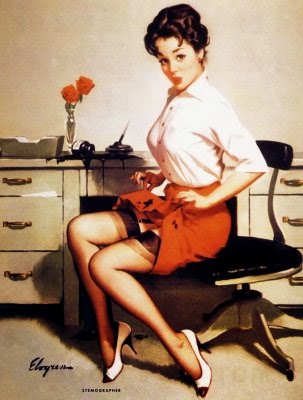 To Listen To This Story, Click
An 8 min 09 sec recording.
[the setting: a job interview in an office]
Hi, you're Matt, right? Please come in. I'm Mindy. Nice to meet you. Have you been waiting long? Please, have a seat on this couch, while I sit behind my desk. So, Matt, in looking over your resume, you seem to be a good fit for this position. What would you say is your best attribute? Oh, there's no need to be nervous…I see you're sweating a little…and, um, my eyes are up here. [chuckles flirtatiously] I see you like staring at my breasts. Don't worry, you're not in trouble. To be honest, I'm used to it. My appearance attracts a lot of attention: my full, round breasts, my long, lean dancer's legs, my firm round ass, my dark wavy hair, big beautiful eyes, full, red kissable lips… I'm not surprised that you're so nervous, and I can see that, well, apparently I'm making quite an impression on you. …why, you're quivering. Let me stand up and walk in front of my desk. You stay seated on the couch. I'm going to lean down, put my hands on either side of your head, and push your face into my tits. Mmmm, you like that, don't you? Look up at me. Look into my eyes.
Don't be shy. I'm going to kiss you. I'm going to kiss you long, deep and hard…feel my soft, full lips…let our tongues dance seductively…mmm…mmm…that's right, kiss me. Kiss me! MMMmmm! And while we're passionately kissing, I'm going to undo your zipper and release your throbbing cock. Let me wrap my delicate, feminine hand around your rock-hard shaft while we kiss. Mmm, doesn't that feel good, Matt? Don't you love passionately kissing a beautiful woman while she gently strokes your cock?
Let me step back. You know what I'd like? I'd like you to strip completely naked for me. I'm going to lean against my desk, and I want you to stand naked in front of me. That's it. Mmm, Matt, you look so delicious. Look into my eyes…watch me seductively lick my lips and push my big tits together. I can see your cock is absolutely throbbing. I know exactly what you want…and, as I walk slowly over to you, I'm going to undo my blouse, and undo my bra, and expose these beautiful full breasts for you. Go ahead and touch them. Kiss me, Matt, kiss my full soft lips while you massage my tits. Mmmm my pussy is getting so wet. That's it, grab my breasts while our tongues tease one another, our lips hungrily devouring one another. You know what? I'm going to make your wildest dreams come true. I'm going to let you fuck me. That's right, Matt — you get to fuck this beautiful seductress. I would love for you to slide your cock into my warm, wet pussy while you gaze into my eyes, while you gaze upon my beauty. You've never seen a woman as beautiful as me before, have you? I know I turned you to jelly the moment you walked in. And now, you get to immerse your raging hard-on in my pussy, which is absolutely drenched.
Let me shimmy out of my tight skirt. Now, sit down on the couch, as I place my hands on your shoulders, let my boobs dance in your face, and position my dripping wet pussy over your cock. You want to thrust into me, don't you? You want to thrust your cock into this beautiful woman, this seductress whose very glance gives you a hard-on. Well, I'm going to slowly lower my wet cunt onto you…yyyyyYES! Oh, Matt, yes! You are fully inside me. I'm going to start slowly moving up and down, up and down on your cock. Look into my eyes while your cock slides in and out of my pussy. Look at me, look at my beautiful face, the most beautiful face you've ever seen…watch me bite my lip while I bounce up and down on your cock. Now kiss me, kiss these full red lips, kiss me while you fuck me. I'm going faster…faster…you're going to cum, I can feel it. Look into my eyes, Matt. I'm going to make you fucking explode. You're going to gaze into my beautiful eyes while you cum…NOW! Cum for me! Cum inside me! Cum in my sopping wet pussy! Yes! Yes, god, yes! oooh I'm cumming! I'm cumming all over your cock! This hot woman is cumming all over your hard cock! Yes!
Mmmmmm! That was nice. Tell you what: you've got the job. But on one condition: you have to fuck me every morning. You get to fuck your unbelievably hot boss every day. Think you can handle it? [seductive giggle]
*****************************************************************************
The above story was written by a client of mine for a custom recording they wanted made. I did not write it, nor do I claim to. I asked for permission to post it and was told I could for others to enjoy it. No one else has permission to copy it or post it.