An unusual artist has a unique show where his works have an unusual reaction on the patrons at the art gallery.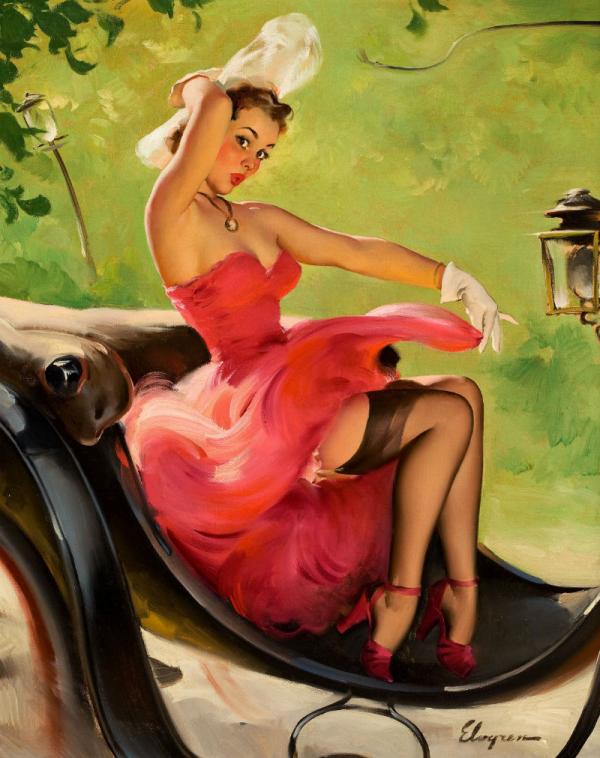 To Listen To This Story, Click
"The Artist" A 19 min 7 sec recording.
The crowd milled about the gallery sipping glasses of champagne, their eyes fixed upon the wall and the display of erotic artwork featured in the show. They gave appreciative smiles and murmurs as they passed by each piece, but there was a slight look of confusion on all their faces. The pictures were expressionist in style, a mixture of colors, shapes and textures. There was no set form in them, but only suggested in the composition of the whole. Without form nor detail the pictures were causing quite a stir. People found them erotic and very sensual. Men walked awkwardly trying to avoid reveling their erections and women fanned themselves as though the room were sweltering at 70 degrees.
After the third or forth champagne was consumed, people began to change slightly, imperceptibly at first. The crowds began to congregate at pictures as though revering a masterpiece. In fact, it was the proximity to the other bodies that subconsciously drew them together. They crowed in examining the pictures and pressed themselves tastefully close together. As flesh began to rub flesh the mood got even more suggestive. Men ceased caring if others noticed there swelling in their pants, on the contrary, they began to almost encourage the glances with bold stances displaying their hard cocks. They were not overt about it. . .that would've been garish. They simply stood talking in slightly louder voices with their jackets opened.
The women began to subconsciously allow contact as strangers, men and women, would press behind or in front looking at the artwork and their bodies would rub deliciously. The crowd liked the artwork even though their was something haunting about it. An image that was not quite in focus. Something that was known but perhaps forgotten. But that something was driving them to a state of controlled frenzy.
Two people noticed this. The artist, Jean-Paul Pascal stood watching the crowd with his own sense of excitement. He could feel their hungers growing within them and he reveled in the fact that his work was causing it. His art was very personal to him as though an extension of himself, and all these people were getting horny looking at it, looking at pieces of him placed on the wall for display. He smiled and sipped the champagne watching them, not wanting to miss a moment or nuance of the frenzy.
The other watching was Claire Dylan. She was assigned this story by the magazine and had tried to get out of it. She disliked expressionist art and the snobs that attended these gallery shows. She knew her story would maybe get 20 lines in the back of the magazine as the artist was virtually unknown. And she knew the artist would ask her to model for him, like it was a huge honor to be asked to strip and pose for a culturally elitist, hormonally overactive, snob. They always told her how beautiful she was, that her body was perfect, her face like an angel of temptation. She had accepted the first offer when she had just started at the magazine, feeling flattered a great artist would want her to model. When she had gotten to the studio and found him setting up wine and condoms, she knew she had been wrong. They were all the same. She turned her attention back to the crowd and watched in fascination as the individuals blended with the crowd and became part of this throbbing mass. She saw the passions being ignited and wondered briefly if something had been put in the champagne.
Jean-Paul watched the beautiful woman standing there watching the crowd like so many bugs on display. There was contempt in her eyes and he wondered if his artwork offended her or if the contempt was only a symptom of a deeper loathing. He glanced back at the crowd and decided they were not nearly as interesting as this lady. Yes lady, for she was a lady, he could see that. She was beautiful, with long brown hair pulled back from her face and a tight black dress on that reached down to just above the knees. She carried herself with grace and had a noble look to her eyes. Her body was curvaceous and legs long and tight. But the thing that most struck him was the dignity about her, the self confidence that she exuded.
Claire knew he was watching her. She had seen him glance her way and then turn to stare openly at her. She knew in a few seconds he would walk over and introduce himself, waiting for a moment there after for adulation and fawning that usually accompanied that revelation at the artist's show. He would be surprised this time, she thought, no fawning, bent kneed, little groupie here. She smiled and across the room Jean-Paul felt sad. There was a bitterness to that smile that destroyed its beauty.
Jean-Paul watched Claire for a few more moments then began to approach her. He walked deliberately up to her and not in the normal meandering way most men try to approach casually. He stopped around six feet from her, as though not wanting to invade her space.
"You do not like my artwork?" He asked, his voice heavy and rich with accent.
Claire looked at him with a sideways glance, trying to figure out if the accent was real or another part of the show. "Why do you say that?" She asked in a flat tone.
"You are standing here watching the people and not the art." He said and smiled a warm smile. Claire found herself returning the smile without thinking and then wiped it from her face when she found it there. "So are you, do you not like the artwork?"
Jean-Paul smiled, "I've seen each piece many times." He shrugged, "So the crowd is new, it is more interesting to me."
"I've seen this type of artwork many times." She said gauging the response before adding, "It's all the same to me."
Jean-Paul laughed and turned back to her. "I always love when people say that. It seems to be a given that at least one person will at each show. It's usually because the sensuality of the art scares them." He shrugged again.
Claire bit back an acid retort. She controlled the urge to slap him and tell him he had no talent, or at least no more than a four-year-old with a set of finger paints. Instead she laughed too, then took a sip of her champagne. "It's just I don't find blobs of color erotic nor exciting. I can't see the sensuality." She said in an even tone.
"Ahh. . ." Jean-Paul nodded his head sagely like she had just revealed something profound to him. "Then that's the problem." He looked at a painting near-by on the wall. "You are looking at my work. . .instead of feeling them."
Oh god, she thought, well at least he seems to have an original come on.
Jean-Paul turned and walked to the picture on the wall and took it down. He carried it gingerly back over to Claire. "What do you see?"
Claire gave him a questioning look and then shook her head. "No…no…please. What do you see?"
Claire was beginning to get annoyed with him. "Blobs of color."
"Good. . .that's all that's there to see. . ." Jean-Paul smiled. "Now tell me. . .what do you feel from the picture?"
"Look. . .I'm quite sure you're very talented in your own way and I'll give you a good review. . .now go away. . .I don't want to play these silly games of art appreciation." Claire said staring him directly in the eye, giving him her don't jerk me around asshole look.
Jean-Paul shook his head and laughed. "This is an interesting thing I think." He smiled a genuine smile at her, his eyes sparkling.
"What is?"
"An art critic who doesn't like to play art games," he laughed again. "But you are right. There are only blobs of color here but, the entire world is blobs of color. We just learn to recognize the shapes into forms we know." He held the painting in front of him. "I make the viewer work to find the meaning. . . look deep into the painting. Do you know why?" He asked and looked at her. "Do you know why I do this?"
"Egotism?" She said and instantly regretted it.
"Yes." He laughed again. "I suppose in a way it is." He looked at the painting and sighed. "But more then that. . . sex should not be easy. It should have to be worked at." He looked at her and his eyes seemed to pierce into her. "This is part of my sex. My mind. My erotic nature. I don't want to make that easy for anyone. . .I want them to have to think about it to enjoy it."
Claire was starting to get an uncomfortable feeling. A slight heat was rising in the room and people seemed to be pressing in very close around them. The frightening part was, she was not minding them pressing in close and even wished they would press closer.
"Passion should never be easy. They are only blobs of color, true. But what do they make you feel?" His voice was almost a whisper but, it seemed to echo through her.
"I. . . .uh. . ." Claire stammered.
He smiled and made a shushing sound. "It is not something you have to tell me." He smiled. "But. . .Miss Dylan. . . at least admit it to yourself." He handed her the painting and smiled, "Enjoy the show. Enjoy my sex." His smile reminded her of what the devil must look like. . . so deep. . . so tempting.
He turned suddenly and walked away leaving her there holding the painting. The crowd pressing in around her stopped her from following him. She watched him go and then looked at the painting again. She found herself understanding the passion it contained. The forms, they were so familiar, so primal, so. . .she knew the form, she knew the shape. She couldn't name it, but she knew it. She could almost feel it. . .almost feel something within her. . . .
The spell was broken as the gallery owner approached her. Her face was questioning and Claire realized she was standing there holding a piece of the artwork and started to giggle. I don't giggle, she thought. Claire handed her the picture and muttered something about Jean-Paul took it down and then quickly left the gallery. It had become close and confining all of a sudden. She stepped out of the gallery door and the cold night air settled her nerves as she started for home.
Claire walked among the people staring at the artworks on the wall. She could feel the sensuality of the pictures, the erotic undertones. The images were not blobs as she had first thought, they were forms that were just out of reach. It was like knowing that something made sense but being unable to grasp the whole picture. But she felt it and she felt the maleness of some pictures and the definite female gender of others. A few pictures seemed both and it is front of these that most gathered.
The room was hot and the throng of bodies close together made it hotter. A woman near Claire took off a shawl that had been draped over her shoulders and let it fall to the floor, instantly forgotten. A man nearby took off his jacket and let it too fall. Claire smiled a deep hearty smile and pressed further into the crowd.
She felt a hand on her shoulder and the sensation thrilled her with tiny electric shocks up her spine. A cute blonde to her right slipped the shoulder straps off her dress and let it fall, revealing her pert breasts and tight body. Claire gasped at first and then began to be excited as she noticed other women letting there dresses slide from their shoulders. Men began to tear at their shirts and send the buttons flying as the tore them from their backs. Claire began to feel a heated rush to her pussy she didn't want to quell so she too let her tiny black dress slide down. She yanked off her panties, thrilled to be the first woman fully nude.
A hand began to caress her ass and she bent forward slightly to allow it to roam freely. Her face was pushed momentarily into the ample bosom of a woman with red hair as the woman lost her footing taking off her panties. The nipples had pressed against her lips for a second and Claire licked her lips in remembrance. The hand on her ass was joined by two more, one of them female with long nails. Claire took a wide legged stance and steadied herself on a man in front of her. A cock was rubbed against her ass purposefully, the stiff head rubbing up and down the crack. Claire began to moan from the sensation.
The man in front of her began to rhythmically sway as Claire realized her had the red headed woman kneeling in front of him, sucking him with wondrous wet sucking sounds. Claire looked around, suddenly crazed for a cock to suck while the one behind her entered her. Then Jean-Paul was in front of her, nude and gloriously hard. His cock was huge, nine inches at least and Claire grew worried she couldn't suck it all. He smiled at her and kissed her face before she went to her hands and knees. He knelt in front of her and she began to lick the head of his cock as the man behind began to rub her pussy. She felt two sets of lips begin to kiss and suck on her nipples from below. Driven to frenzy she opened her mouth wide and swallowed half of Jean-Paul's cock. He threw his head back and moaned in pleasure in response.
The man behind her rubbed the head of his cock at her pussy opening and then slide it in, timing himself to her sucking movements. Someone below began to rub her clit while they were sucking on her breasts and Claire felt a warm flood rocket through her body as she came. She didn't stop though, she wanted more. The sounds of the frenzied orgy echoed in her mind as she heard others fucking and sucking and rubbing and moaning and a few choice slaps on the ass's of women and men. She felt the man behind her begin to increase his pace, fucking her with abandon now, his cock firing in and out of her. Someone below was sucking on her clit directly and the pleasure was so exquisite it hurt. Jean-Paul's body began to shudder and she swallowed him deeper and deeper till she realized she had him all in her mouth. Another spasm hit her and she felt electricity shoot through her. Her body tensed and the two men simultaneously erupted, one in her pussy, Jean-Paul in her mouth and on her face. She let out a scream as her body shuddered and convulsed as another orgasm tore its way through her. Unable to hold herself up any more she collapsed laying on the woman below her, feeling the soft hot body pressing against her. She opened her eyes to look up at Jean-Paul. . .
. . .Claire looked around her room. The dream had been so vivid. She reached down to find the sheets wet with her, her body still shuddering from the dream orgasm. She closed her eyes and wished the dream back. . .just for a little while longer.
*************************************************************************
The above story was in a collection of erotic short stories I purchased on an adult content website specifically for the purpose of recording and posting on this site. I did not write it, nor do I claim to. Stories purchased on such a site I can post, make recordings of and or sell if I so choose. No one else has the right to post these unless they themselves also purchase such a collection.