A crossdresser finds some fun in the dressing room while shopping for lingerie at the lingerie store with the store owner.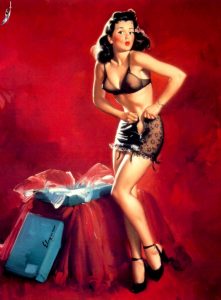 To Listen To Me Read This Story, Click
"Lingerie Shopping"
 A 10 min 24 sec recording.
You are the owner of a high end lingerie boutique that I've shopped at now for a year or so. Usually I come in wearing male clothes, a nude lipstick, and mascara. I've just shopped for panties in the past but today when I come into the shop I've just had a complete professional makeover and have natural but full makeup on including foundation, eye shadow, curled lashes and multiple coats of mascara, and lipstick in a pretty shade of subdued pink. I'm also wearing women's skinny leg jeans, open toe pumps, and a pink blouse that goes well with the lipstick. It's later in the day, around 5:00 pm and you close your store at 5:30 PM.
You: Jim, look at you! You look beautiful! I love your jeans and those pumps are so cute! Your makeup is beautiful (you come give me a hug and a kiss on the cheek)
Me: Thank you Jandi, I hope you don't mind, I decided that I'd treat myself to a full day of being a girl so just had a makeover and then thought I really need to buy a matching bra and panty set so here I am (smiling)
You: I'm so happy you came in and shared the day with me girl! I've never asked but you are so feminine today I don't think we should be using your male name, do you have a girl's name?
Me: That's really sweet of you, yes, my female name is Kim.
You: Perfect, it's a beautiful name to match a beautiful girl! This is so wonderful, so we're going to find you a new matching bra and panty set, that's great. Let's take a measurement for your bra so we know where to start, I've got some new sets in that I think you'll love! Ok, looks like a size 38 will bit you perfectly and I think we should start with a C cup. I know you and I share the same taste in panties so I think I've got some perfect sets to try on. Why don't you go into the changing room and I'll start bringing some things in for you to try.
Me: Thank you Jandi, I really appreciate the help and it's always so fun to shop here, you're the best!
You: Silly girl, you're a wonderful customer and besides you always have such good taste in what you buy. I've even bought some panties that you've picked out for yourself that I didn't see and decided I need them for myself!
I go into the changing room and am removing my blouse when you bring in the first two sets. One is nude with a beautiful lace bra and matching bikini panty, the other is a sheer pink bra and panty with sweet flower designs on the straps of the bra and the panty.
You: Ok, these are two of my favorite sets, I'm even wearing the pink set today (you say smiling). Let's try the nude set on first (you hand me the bra. I start to put the bra on and you step behind me to help me fasten the bra and adjust the straps. Then you step in front of me and start to adjust the bra cups) hmm, you say, the cups on this one might be a little large, see we have a little wrinkling here on the side but otherwise it fits you perfectly as you can see your nipples are right in the center of the cup (you lightly brush my nipple which gets a little more extended). Why don't you try on the panties and see how those fit?
Me: Um, you want me to try on the panties in front of you ?
You: Sure, why not, we're both girls (you say smiling) so it's just fine!
Me: Ok (and remove my pumps, then take off my jeans and start to pull the new panties up over the ones I am wearing)
You: No, don't do that, we need to see how this set really fits, go ahead and take off your panties and then try on the new ones!
I smile and pull down the panties I wore in and pull on the new nude pair so am now standing in front of you wearing just bra and panties.
You: hmm, I'm not sure those panties fit as well as I would like either (you slip a finger into the waste band and then under the legs on the back) they fit well enough in the waste but they might be just a touch loose in the hips, see how there is a little wrinkling in the back and it looks like there might be a little extra fabric in your crotch as well. Just a second, I'll be right back (you leave the dressing room and in just a minute come back in)
You: There, I've closed up the store so we won't be distributed, now let me show you how we want your undies to fit (with that you unbutton your blouse and then take off your jeans. You are wearing the sheer pink bra and panty set) See how my bra fits in the cup without any extra fabric and the band is tight but not so much that it pushes out any extra skin (you take my hand) see feel the tightness of the band. (I run a finger under the band on one side)
Me: yes I see, snug but not tight
You: That's it exactly and just like your bra, you can see that my nipples are in the center of the cup (you brush your finger over your nipple which I notice is extended as well)
You: Ok, l'm betting the pink set will fit you perfectly, let's try it on. (You unhook the band to my bra and I remove it and the panties so I'm standing nude in front of you)
You: You really do have a beautiful body, I wish I had breasts that were as perfectly proportioned as yours are. Your brazilian wax looks wonderful as well!
Me: (I blush and put on the pink bikini panties, then the pink bra) Thank you, I love having smooth skin don't you, it just feels so good against nice lingerie like this
You: (you fasten the bra and then adjust the band, as I turn around to face you, you remain standing very close to me and you start to adjust the cups on my bra) Oh yes, I love the feeling of silk on my bare skin, it always makes me feel so pretty and sexy. Yes this bra fits you much better! See there is no extra fabric, it fits your breasts beautifully (as you adjust the top of the bra cup your hand squeezes my breasts and brushes against my nipples which are now fully erect) mm, you really do have beautiful breasts (which you start to caress as I catch my breath) Now let's take a look at the panties (smiling, I step back from you slightly and you look at how the panties fit in front and back)
You: yes see, your panties now fit just like mine (you turn to show me the back of your panties and then turn back to me, then you run your hand over my butt) yes, see those fit you beautifully! (then you slip your fingers under the leg band between my legs and I feel your finger brush against my pussy lips) mm, yes just perfect in the crotch as well, you say laughing.
You: look at us in the mirror, look how beautiful we are in our matching bra and panty sets (we look at ourselves together and then you turn to me) You are so beautiful! (you move closer and kiss me gently on the lips), I wanted to do that for a very long time!
I put my arms around you and bring you closer, my legs open and your thigh slips in between my legs pushing against my panties. We kiss deeply and push against each other
You: Oh that is so nice, I want you to feel how much I want you (you take my hand and put it on your panties) see how wet I am, you can feel that I've soaked my panties! (then you feel my pussy through my panties) Oh how wonderful, I"m not the only girl who has wet panties!
You take off your bra and panties now standing nude in front of me
You: let me show you how a woman likes to please herself and then I'll teach you how to do it to yourself, just watch me for now (you begin to tease your nipples and reach down too run your finger between your pussy lips) See, I'm getting wetter each minute that I touch myself, especially with you standing there watching me in the same bra and panties that I was wearing today!
You sit down on the chair in the fitting room and open your legs wide stroking your pussy and teasing your clit, I can see the wetness on your fingers.
You: oh good this is so good, I'm getting so close to cuming! Look at how wet my pussy is, it feels so good when my fingers go inside my pussy! Please, put your fingers in me while I play with my clit
I kneel between your open legs, and wet two fingers in my mouth then slowly slip them into your pussy and lean in to kiss you
You: oh god yes, that's so good! Finger me harder, please I'm so close to cuming sweetheart. Oh god you are so beautiful in that bra and those panties, it's so sexy to see you as you finger me (your fingers are going faster on your clit) Oh I'm going to cum! (you cum hard on my fingers, I can feel your pussy spasming on my fingers) Oh that soooooo good!
As your breathing starts to slow down I lean in to kiss you again and gently pull my fingers now covered with your juice out of you.
You: mmm that was so wonderful, now it's your turn Kim, mmm you are so pretty, you sit here and open those beautiful legs so i can see your pussy through those sheer panties. Oh yes I can see such a big wet spot on those panties, go ahead and stroke your pussy for me sweetheart.
You lean in and kiss me deeply, caressing my breasts through the bra and feeling my nipples harden. My breathing is coming much faster and you can sense that I'm so excited. You reach between my legs and start to stroke my pussy though my panties
You: Oh you feel so good, you are so wet! Lift up, we need to take those panties off Kim! (I lift up and you pull the panties down my legs) mmm, that's much better (you start to run your fingers between my pussy lips) So soft and so wet! (then you start to tease my clit and you can feel my push up against your hand)
Me: please go inside me, please finger me!
You: mm, oh yes sweetheart (you slip two fingers inside my pussy), mm, so soft and wet inside (I'm pushing my hips up against your hand and you start to finger me faster, kissing me hard on the lips) Yes, cum on my fingers Kim, I want to feel you cum for me!
Me: oh god, I'm so close to cuming, oh god I think I'm going to squirt on you!
You: oh yes, squirt all over my hand Kim, please I want to feel you cum all over my hand
I start to cum, you can feel me squirting and my pussy squeezing on your fingers
You: Yes, that's so good sweetheart, keep cuming for me!
As my breathing starts to calm down, you slowly remove your fingers from my pussy
You: (you take your fingers from my pussy and put them in your mouth) mmm you taste so sweet Kim! We're going to have to do this much more often!
We cuddle close and kiss each other, enjoying the feeling of being in each others arms)
You: I think that pink bra and panty set is going to be a present from me to you! (we stand up and both starting putting up the matching bra and panty sets) Yes, please wear that tonight, it will turn me on all night knowing we are wearing the same panties.
Me: You are so special, I can't thank you enough! I'll be back soon though to do more shopping, I can't wait just to see you again Jandi.
You: I can't wait to see you again either Kim, please come dressed again and I love seeing you in your makeup and female clothes! Matter of fact, let's make a date to go clothes shopping together next week! What do you say, I can't promise that I'll be able to keep my hands off you but it would be so much fun for the two of us to shop together. I've been looking for a girlfriend that loves clothes, makeup, and lingerie just as much as I do!
Me: It's a date, I'll call you and we'll find a time to go next week, I can't wait.
You: Perfect (leaning over to kiss me again), now better touch up the beautiful lipstick of yours, I'm afraid I've messed it all up (laughing).
***************************************************************************
The above story was written by a client of mine for a custom recording they wanted made. I did not write it, nor do I claim to. I asked for permission to post it and was told I could for others to enjoy it. No one else has permission to copy it or post it.