A woman comes home to find her boyfriend dressed in her clothes and she decides to humiliate him in front of his mother and take pics of him all dressed up.
Note: There are 4 lines in this spoken by a male, I was lucky enough to have one of my ClimaxConnection members do me the favor of doing the lines for me, he has submitted audios of his own and was kind enough to do this for me when I needed a male voice to complete the recording.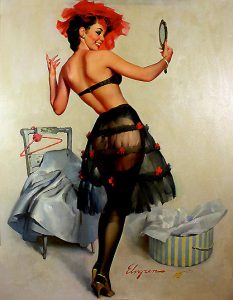 To Listen To This Story, Click
A 13 min 6 sec recording.
(male voice)
I know I begged and pleaded with you to do this to me. But please NO, I cannot go through with it.
You are definitely going to do it CASE CLOSED. OH, I'm going to love every single moment of it.
(male voice)
No, it was just a sexual fantasy, I cannot do it for real.
(laughing, giggling).
Let me remind you when I first caught you wearing my clothes. You tried to claim, standing there dressed in my silk panties, lacy bra, sheer stockings, micro mini length dress wearing stiletto high heel pumps that it was just a SEXUAL FANTASY that you were engaging in. As I told you when I caught you, NO WAY. Fantasy is something you think about NOT something you do. Something you do is called SEXUAL FULLFILLMENT. You do remember my telling you that. Of course, you do !
Now, finish putting on your lip liner, lipstick, and lip gloss
Go stand in front of the living room couch waiting for our very special guest.
(male voice)
NO ! I will not do it. It's total humiliation and embarrassment. This is much more than I can bear.
Really? Fine by me. Your choice is to greet our special guest in person or I post lots of your photos on Facebook. So you can finish putting on your lip makeup and go into our living room to pose for our guest. Or she will see you on facebook. Of course, if you go the facebook route, not only will she see you but so will all your friends connected on facebook.
(male voice)
Please, I beg you for mercy. I'll do anything you want me to do. But please just not this one.
Oh, you are going to do anything I want – no matter what. I WANT THIS DONE IN PERSON. GET MOVING BARBIE. You know you don't have a choice. Plus your rock hard erection totally betrays you. The humiliation, embarrassment and shame totally turns you on. It's what you really want and need. Good girl, Your lipstick looks sexy. Into the living room young lady. This is going to be so interesting, exciting, fun and HOT – at least for me!!!
That's it stand in front of the sofa and face the door. Ah ! There is the doorbell, let me bring in our guest. AND BIG SMILE ON YOUR FACE or you'll pose live and get posted on facebook as your punishment for not smiling
(Heels clicking on floor going away, front door opening, heels clicking on floor approaching, then a LARGE Audible GASP)
Oh, the look of your face. Reminds me of my 1st reaction when I came home and caught my boyfriend and your son. There he was dressed in my hottest, sexiest panties, lacy bra, sheer lacy top stockings, frilly garter belt, skin tight mini-dress wearing 3" stiletto high heel pumps. Do you like how your son looks in his pretty ultra feminine underwear, fully made up with all the jewelry?
NO, HE WILL NOT TAKE THE CLOTHES OFF
NO, YOU WILL NOT LEAVE IF HE DOESN'T.
You are going to get a nice, long look and the full story just as I did when I caught your son dressed in my clothes. Sit down, Mommy right across from your son. If you don't then I will post all his photos on facebook and you can see your son all dressed up on Facebook. Of course, so will all his sister, all his relatives, friends, neighbors, business associates, and lots of other people. So, today is either his private facebook showing for mommy or we will do his full complete public unveiling. Even if you don't look on Facebook, I'm sure you will hear all about it from everybody else.
Oh, I couldn't agree with you more. BLACKMAIL is illegal. If I were a blackmailer – you could have me arrested. But, don't jump to conclusions Mommy. You'll learn soon – this is all 100% legal and under my complete control.
First things first – we are going back to when I caught your son in my clothes. It was 6 months ago, just 3 weeks after he moved in with me. He was so embarrassed and ashamed being caught. He immediately started to remove my clothes. I sternly admonished and scolded him telling him he may have decided to dress himself in my clothes but since he did and was caught they would stay on until I gave him permission to take them off. I was surprised that he stopped taking them off and stood there in front of me all dressed up. I was really surprised when I told him to zip the dress back up and he obediently did as I directed.
Then I made him lift the hem of my mini-dress up to his waist. The turn-on was so incredibly evident. Of course, Mommy, you can see that by just looking – the incredible bulge in those silk red panties. I took out my cellphone camera to document my boyfriend wearing my dress, stockings, high heels and sexy underwear. Did he resist having me photograph him? No, not one ounce of resistance. I was actually flabbergasted, he stood there to have pictures of him all dressed up in my clothes.
Once I was done I told him to turn around, that I was going to tie his hands behind his back to make sure he couldn't remove my dress, stockings, high heels, panties or bra. I was beyond stunned when he obediently, submissively turned around and placed his hands behind his back waiting for his girlfriend to tie him into her clothes. Wow – once I tightly bound his hands behind him – he was mine !!
It's amazing, how much a male will reveal to a female when he gets so turned on, sexually enticed, sexual teased, sexually taunted and keep on the edge of ejaculation but totally denied sexual satisfaction. Even though I have always known that, it never ceases to amaze me. What I didn't know was the impact of using these techniques on a male who is a natural, complete, total submissive. Bound helplessly into my clothes, I slowly expertly seduced him. Kept feminized, dominated and disciplined it was really easy to get him to reveal all his sexual turnon's, desires and dreams to me. His lifelong fantasy to be forced feminized, dominated and discipline. So powerful overwhelming and strong he had to not just think about it, he had to dress in female attire to satisfy it. By the time the weekend had finished, I had sentenced him for taking my clothes without permission.
His punishment sentence – he would have to wear panties and pantyhose 24 hours a day, 7 days a week for 90 days. In the apartment in addition to the panties and pantyhose, he had to spend 90 days at all times in a bra, high heels, dress or skirt & blouse with lipstick, mascara, eyeliner, and eye shadow. At night for 90 days he would sleep in either a peignoir or baby dolls to go with his panties and pantyhose.
Now, we will get back to the ugly nasty term you used earlier called blackmail. NO WAY !!! You see your son was so happy, thrilled and excited to be kept forced feminized he signed a perfectly legal photo release. In consideration for my taking the photo's and providing the clothes, I have complete legal ownership of the images and the right to choose to use them in any way I want to. In the photo release, signed by 2 witnesses, my attorney and his attorney, it specifically includes unlimited usage on facebook, tumblr, pinterest and google plus as I see fit. So when I say I will post his photos on his facebook page, I mean it and it's all very legal and proper.
After 90 days, he begged and pleaded to be kept in panties and pantyhose as well as being dressed all the time. He agreed that in my presence it is now SHE not he. She is now my personal Barbie doll. Face facts Mommy, from today on your son is now your daughter. Yes Mommy – she wants complete forced feminization and it starts today – forced feminized in front of mommy. She's known this day would come because I told her, she'd pay this price. A humiliating and embarrassing day for her but look at her panty line. She really loves it.
It is going to be a most interesting afternoon for you Mommy. Yes, I know all your little secrets including the one's you made him swear to never tell anybody. I think it is time to proceed so you can see what a beautiful, pretty girl your daughter is and so ultra feminine.
(Drum roll or trumpet if you can find one.)
*******************************************************************************
The above story was written by a client of mine for a custom recording they wanted made. I did not write it, nor do I claim to. I asked for permission to post it and was told I could for others to enjoy it. No one else has permission to copy it or post it.