A lusty cougar and her sexy cub boyfriend have a sexy and fun filled vacation in Hawaii.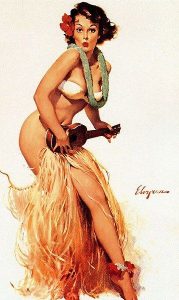 To Listen To Me Read This Story, Click
"A Trip To Hawaii" A 26 min 3 sec recording.
After a few happy months of dating my new 18 year old boyfriend Roy, I thought we could take things to the next level and consider taking a vacation together. I liked him a lot, and I loved the idea of us spending a couple of weeks together rather than just the odd night here and there. We didn't live together, and I didn't know if that was realistic, he was half my age, yet we were so compatible on so many different levels and just understood each other very well, and he was much more mature than most boys his age by a long shot.
I felt and looked a lot younger than I was too, so it didn't seem that big of a difference in my mind, but he looked so boyish and sweet, he looked his age, and I loved every minute of my company with him. He wasn't that well experienced when we met, but he was an eager and willing student in the bedroom and that combined with his stamina was more than good enough for me. He was starting his second semester at college soon, and I thought the break between was a perfect opportunity for us to spend more time together and see how we felt about one another being around each other around the clock before I'd consider inviting him to move in with me.
I decided to bring up the topic one night in bed after he'd made love to me so passionately.
"Roy, I know we've been spending a good deal of time together recently, and I love it, but I was wondering how you'd feel if we went on a little vacation together. Would you like that, dear?" I said.
"Where were you thinking of us going," he asked in that sexy, breathy voice of his as he ran his fingers through my long, red hair so gently.
"Hawaii," I replied.
I'd been there a few times as a child and always loved it, it was one of the most beautiful states I'd ever been to and I was enthusiastic to visit it again. The air that smelled like perfume from all the flowers, and the coconut oil in the suntan lotion. The air there was like nowhere else, so distinctive.
"Sharon, I'd love to, but you know I can't afford to," he said in a disappointed voice.
I laughed and said, "Don't be silly, it's my treat. You've brought me so much happiness and I can more than afford it. You have the time off and I'd like us to go. Will you come to Hawaii with me, my sweet and sexy teenage lover?" I teased as I reached under the sheet to grab his cock and started playing with it.
He groaned as I started to glide my hand up and down his stiff cock and leaned into my ear and whispered, "Of course."
He then rolled me onto my back and pushed that beautiful young cock into my shaved pussy in one thrust and fucked me yet again as he kissed my breasts and suckled on my nipples as I reached down and squeezed his ass cheeks in my hands pushing him deeper into me until I came all over his cock. I curled up in his arms and drifted off to sleep thinking of our upcoming holiday together.
I woke up and Roy was gone already, he'd left for school so I had the day to plan our trip online and see what I could find for us last minute. Luckily I found a nice package for us that left the day after he finished his last exam. I worked as an independent consultant from home, so could pretty well set my own hours and take time off as I wanted or needed to and made a good living, so I could afford to get us a nice trip and not have to go coach. A flight that long in coach would not be fun, and first class was always nicer since usually not packed and one had more privacy, I thought devilishly as naughty thoughts danced through my brain.
I spent the day out shopping getting some new clothes for the trip, some new swimsuits as well, and I picked some things up for Roy as well, he was easy to buy for, he looked good in nearly everything, and I was looking forward to when he came by later that evening not only for the hot lovemaking that was sure to ensue, but also to show him the outfits I'd gotten us and tell him about our trip, we were leaving in a few days and I was excited! I'd ordered in some food and brought Roy into the bedroom to show him the new clothes I'd gotten for us and he was a bit shocked, and didn't expect any clothes but was very pleased with all the things I'd gotten him.
"You're turning into my Sugar Mama," he laughed as he looked at the items laid out.
The next few days were a whirlwind of packing, and getting everything ready to go for both of us. Roy spent the night before we were to go with me, and the airport shuttle was picking us up in the morning. I was excited to be returning to Hawaii again and of course showing it to someone that had never been before, and it had been so long since I'd been there, I'm sure a lot will have changed in the decades since.
The shuttle picked us up and we got to the airport around an hour later and then went to check in and await the plane boarding. It was a mid week flight, so there were even fewer people than normal on board. There were only three other people in the whole first class section, giving us lots of privacy, and the way I was feeling, we were going to be needing it. Roy had never flown before and was quite excited, I was excited too, but not for that reason. After our meal everything quieted down for the most part on board. I stood up and opened the overhead compartment and got a blanket down.
"It's not cold in here, what do you need that for?" Roy questioned.
"Oh I know it's not cold at all…," I grinned at him.
He smiled and soon caught my drift and helped me unfold it over our laps. The older couple in their 80's had fallen asleep three rows ahead the one younger girl in her 20's was engrossed in her book with headphones on and the flight attendants seemed to have all but disappeared. I leaned over and started kissing Roy passionately, he never failed to turn me on and instantly. I couldn't get enough of him. Under the blanket across our laps my hand soon drifted to his thigh and then his cock through his jeans. I could feel his breathing getting heavier as I unzipped his jeans and got his beautiful, young hard cock out and started to caress it as he continued to kiss me. I pumped that teenage shaft with my hand as he kissed me and played with my breast, making my nipple so hard.
I looked around once more to make sure no one was paying attention and they weren't, so I ducked under the blanket and took that cock into my mouth and started bobbing my mouth up and down on it as he had his fingers in my hair. I swirled my tongue around his cock head, licking every drop of his sweet precum off. Tracing my tongue up one side and down the other driving him wild. I was wondering if anyone was looking at him, as the expression on his face would surely betray what was going on under the blanket. I sucked on his balls and made him gasp, his sweet, sexy breathing never failed to drive me crazy and get me dripping wet as well. I could tell he was getting close and I sped up my mouth on him to make him cum very hard. In a warm, salty gush I felt him explode down my throat and I licked his cock clean before coming up from the blanket. He had such a satisfied look on his face, and I loved being the one that put it there.
I went to the tiny bathroom to clean up a bit when there was a light tap on the door. I opened it and it was Roy, pushing his way in.
"I can't have my first airplane ride and not become a member of the mile high club," he stated matter of factly.
"Oh Roy, it's so small in here, how will we do this?" I asked seriously.
"Here, I'm going to pick you up and you wrap your legs around my waist and I'll fuck you against the locked door. I think that will work," he said assuredly.
Reluctantly I decided to go with it, since he was wanting to. Lord knows I love fucking him, but comfort is important too, and I didn't see how that could possibly work. I pulled my skirt up over my hips and took my panties off and undid his jeans again. His young cock sprang to life once more and he lifted me up and I wrapped my legs around his waist and my arms around his neck and he began thrusting into me, I was afraid the door would either give way and we'd tumble out into the aisle, or at the very least the flight attendant would hear the rhythmic pounding on the door and know what was up and ask us to stop and come out before we were finished. We kissed and fucked in that tiny airplane bathroom fast and furiously until we were both panting like animals and my cunt spasmed around his cock and milked him into me as he came. We just stood there catching our breath, and then cleaned ourselves up a bit before going out to our seats again. The flight attendant gave us a knowing smirk but didn't say anything as we returned to our seats and then shortly after the drink cart was brought around again.
After another hour or so they played a movie that we watched, and then we landed a while later. The heavily perfumed air was heavenly, and we were given leis to put on of the beautiful plumerias. The bags were thankfully all there and the shuttle came to take us to the hotel. I walked up to the desk with Roy and the suitcases a bit behind me and the female clerk looked up and said once I told her my name, "I'm sorry Ma'am, there seems to be a mistake. It seems you and your son have been booked into one room with just a king sized bed," she stated.
I smirked at her and lifted off my sunglasses and placed them on top of my head. "That's not my son, that's my lover…," and I grabbed the key right out of her hand and turned on my heel and started walking towards the elevators leaving her with a gaping mouth and a look of surprise on her face as Roy laughed and trailed after me.
He was still laughing as the elevators doors closed. "Stop it's not funny," I said, worried others might think the same thing.
"Oh don't be silly, didn't you see how thick her glasses were, she can't see how young you look, or how old I look, I bet she's blind as a bat," he said no doubt trying to ease my concerns about the difference in our ages.
"So, 'Mom', we going to go for a walk on the beach tonight?" he asked playfully.
"You're a very bad boy! Yes, of course, I'd love that, dear" I said.
The elevator doors opened and we went to our room and unpacked. It had been a long day and I for one was fairly tired. I just wanted to have a nice dinner and come back and go to sleep. We went down to the hotel dining room and ordered a nice dinner and watched the dinner show of hula dancers and Hawaiian music, it was all very colorful and enjoyable. The meal was delicious and we had these wonderful drinks called Chi Chi's, so tasty! We went back up to the room and I found I'd gotten a second wind and decided I wanted to again have some more teenage cock before going to bed.
"So you ready for that walk on the beach you mentioned earlier, my sexy boy?" I teased.
"Yes, why don't we put our swim suits on and maybe have a midnight dip after we walk?" He suggested.
"Perfect," I said as I slipped out of my skirt and top and squeezed into my new one piece swimsuit and Roy got his new trunks on I'd gotten him. We grabbed a couple of beach towels and headed out the door and down to the elevators and then out the lobby and walked hand in hand in the evening breeze towards the beach that was about a half a block away. We walked a ways up the nearly deserted beach, enjoying the salt air and the wafting scent of the flowers and the lingering aroma of coconut suntan oil and laid down our towels and walked to the waters edge.
"I don't feel that safe going into the water in the dark," I confessed.
"Don't worry, you're with me, and we won't go in deeper than just above our waists, it will be fine," Roy reassured me.
We went out and the warm water felt so nice, the ocean breeze and the pretty lights from shore. We didn't go much deeper than our waists, just enjoying the waves lapping at us, and kissing, hands wandering under the water. I reached my hand into Roy's swim trunks and felt his hard cock in my hand and started playing with it as he kissed me and fondled my breasts, pulling my one breast out of my swimsuit and started to suck on my nipple.
"I want to fuck you," I said passionately. I took him by the hand and started to walk back to the shore and towards our spread out towels. It was dark, and the spot fairly secluded. We took off our bathing suits and laid back all wet on the towels kissing each other, our breath getting deeper. I again looked around and saw no one anyone near us, so felt free to fuck right there on the darkened beach, my legs wrapping around his hard teenaged body as he drove that sweet cock inside of my wet pussy and pinned my arms above my head.
"Beg for it, you cougar slut," he whispered huskily into my ear.
Oh God, it drove me wild when he said things like that to me. I could just feel waves throughout my entire body, I felt so alive and turned on by this boy half my age that so aroused me.
"Please, please fuck me, Roy, I love you so much, baby," I said so softly into his ear as I could feel his dick sliding in and out of me, rubbing against my clit. I was squeezing my cunt muscles around his cock, milking him as I could feel him thrusting inside of me, his breath on my neck as I ran my hands up and down his nude body, so warm and so hard. He always pleased me so much sexually. I could tell how much I aroused him as well, and I loved that. I could feel my orgasm welling up inside of me and I moaned loudly, not really caring if anyone was around. As I gripped his young cock with my pussy lips in the throes of my orgasm, I could then feel him shooting his cum inside, squirting into me. I adored that feeling of him letting loose and flooding my womb with his seed. He laid on top of me and we kissed and held each other, his flaccid cock still inside. I loved it when sometimes he'd just stay that way until he grew hard again. After a few minutes, he rolled off of me and we just lay there catching our breath and enjoying the night for a while before getting up and wrapping the beach towels around ourselves to walk back to the hotel and go to sleep for the night. We saw some people walking towards our general area, so we took that as our cue to get up and go.
We returned to the room and slept wonderfully before having a nice breakfast and then a day of sightseeing ahead. We got some fresh leis made of plumerias and toured a banana plantation in the morning, and then had a good look around the International Market Place that afternoon and enjoying some of the flavored shaved ice that was so popular everywhere. We spent our days exploring the island and relaxing on the beach, and our nights exploring and pleasing each other, which I always adored.
We went down to the hotel pool the next day and began rubbing suntan oil on one another's bodies and I could feel my nipples hardening as Roy's hands kneaded my flesh. There were only a couple of people at the pool. I could feel his hands roaming over my body, the insides of my thighs, I could feel myself getting wet, wanting those fingers between my pussy lips and caressing my stiffened clit.
"Touch my pussy, I need those fingers, Roy," I said.
"Someone might see," he said not too concerned.
"There's not enough people around and they are all pre occupied," I countered, wanting my clit rubbed more by the minute as my horniness grew and the breeze caressed my skin.
I spread my legs wider and felt his fingers go under the leg band of the bikini bottom and then the sweet heaven of his fingertips on my dripping cunt, which had already made quite a wet spot on the bathing suit bottoms. I felt his middle finger rubbing my clit and I wanted to buck against his hand.
"No, don't, it makes it more obvious. Lay still I will get you off my sexy cougar," he promised me.
I closed my eyes and just gave myself over to his fingers which massaged and caressed and teased my clit expertly. My God I adored this sexy boy, the heights of ecstasy he so regularly brought me to so easily. I could feel my orgasm welling up inside of me as he rubbed my pussy faster and faster as inconspicuously as he could and I bit my lip to keep from screaming out in the explosive orgasm he was giving me and I was left panting as he stroked me through it. I wanted to feel him inside of me,and I grabbed him by his still sticky hand and pulled him into the pool and pressed him up against the side of it and kissed him passionately and deeply. There was only one old sleeping man in a chaise lounge now, everyone else had left the pool area.
"Fuck me, Roy, I want your dick inside of me now," I demanded.
He looked around and deemed it safe to proceed. I took off my bikini bottoms and he took off his swim trunks and wrapped my legs around his waist and he started fucking me under the water, him thrusting and thrusting, the water splashing as we fucked and kissed right there in the hotel pool in broad daylight shamelessly. I felt like a horny slut being so brazen, but what this boy brought out in me, I couldn't describe it. He shot his load in me and we panted breathlessly and pulled up our bathing suits and got out of the pool and went back up to our room to have a nap before dinner.
It was our final night on the island and we attended a lovely luau and another last midnight stroll on the beach in the moonlight. We stole away and made love on the same spot on the beach we did the night we swam before going back to our room and packing to get up early for our flight home. We slept well, had a nice breakfast, and then the airport shuttle picked us up and we thankfully had a nice flight home and once more were naughty on the plane. We were tired when we got dropped back off at my place after the long flight and had a light dinner and went to bed.
The next morning Roy told me what a wonderful time he'd had on our holiday, and I replied I certainly had as well.
"What would you think about moving in with me full time, sweetie?" I asked him.
"I'd like that very much, Sharon," he said as he leaned in and kissed me before pinning me down and pushing open my knees before shoving his sweet teenage cock into my greedy cougar pussy and fucking me for the next hour to three fantastic orgasms.
"I love you so much, Roy, you're such a dear boy and have brought me so much happiness," I said to my hot young lover as he kissed his way down my tummy to my shaved cunt and started to lick me and tease me to yet another orgasm. Yes, being a cougar did indeed have its pleasures I thought to myself as he brought me over the edge yet again.
**********************************************************************************
The above story was written by me. If you see the above story posted on any other websites than Climax Connection, Literotica or Lush Stories, it has been stolen, posted and copied without my permission. Please notify me if you see it on any other sites.